TikTok: Warning over teenagers getting stuck in play swings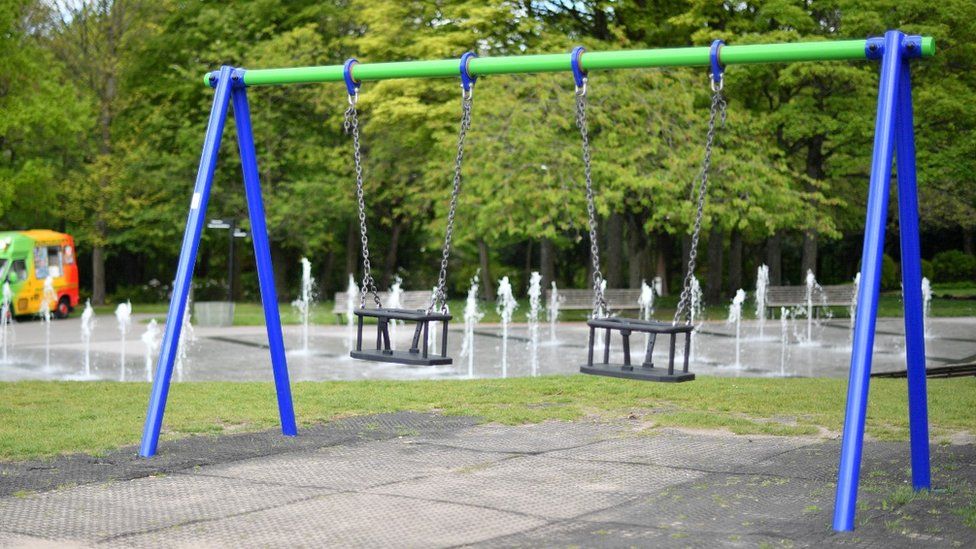 Increasing numbers of teenagers are having to be rescued from toddlers' play swings after taking part in a TikTok craze, firefighters have said.
Emergency crews have had to help 21 young people who have become stuck so far this year, including 12 in the last month.
The videos shared online show people forcing themselves into swings.
London Fire Brigade (LFB), warned it was "potentially diverting crews from more serious incidents".
On 1 May, firefighters had to assist a 14-year-old girl who had become stuck in playground equipment in a park in Ruislip, north-west London.
The crew had to dismantle the swing and then used pressure to expand it so the girl could be released.
The teenager was uninjured and the swing was reassembled, but on some occasions cutting equipment has been required, damaging the playground equipment, LFB said.
Last year, London firefighters rescued a total of 52 people who had become stuck in swings, while in 2019 there were 32 similar incidents.
Jane Philpott, LFB's assistant commissioner for fire stations, said that by looking for TikTok fame "people have been potentially diverting our crews from more serious incidents and that isn't something we want to see".
She added: "We would ask people to please just think twice before taking part in this challenge - think of the injuries you could cause yourself, the damage to the swings which have to be cut apart and most of all the fact you're tying up resources which could be needed for a genuine emergency."
Related Internet Links
The BBC is not responsible for the content of external sites.