Croydon tram crash inquest: Families pay tribute to victims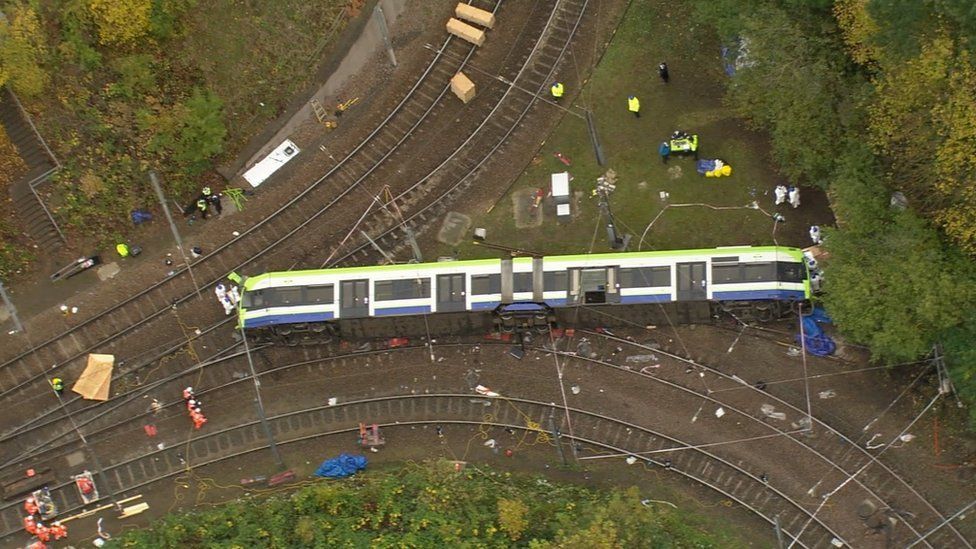 The families of the seven people killed in the Croydon tram crash have paid tribute to their loved ones at an inquest into their deaths.
Dane Chinnery, 19, Philip Seary, 57, Dorota Rynkiewicz, 35, Robert Huxley, 63, Philip Logan, 52, all from New Addington, died in the 2016 accident.
Mark Smith, 35 and Donald Collett, 62, both from Croydon, were also killed, while a further 51 people were injured.
The inquest had been due to begin in October, but was delayed due to Covid.
Mr Chinnery, who worked for wet waste firm Hydro Cleansing, was a huge Crystal Palace fan, and also loved classic cars, Croydon Town Hall heard.
His mother Beverley Gray said he was also a big fan of Madness; the band sent cards and flowers when they heard of his death.
"Not a day goes by that I don't think about him and what he would have become," she said.
"I wonder what he would look like and if he would have changed much. He was a handsome lad with an infectious laugh."
Tracy Angelo, Mr Collett's daughter, said her father had always lived in south London and worked on many of the skyscrapers in Canary Wharf.
"There were many funny stories that came out of those days, which my sister and I could listen to for hours," she said.
Ms Angelo added: "One of the things he would always say to us if we called him of an evening with a worry or a problem; he would tell us to sleep on it and things would always look better in the morning," she said.
"Unfortunately though, this piece of advice has not been something that I can say is true since 9 November 2016; things have not looked better in the morning for any of us without Dad's smiling face in our world."
Analysis: Theo Legget, BBC international business correspondent
Seven people lost their lives on that cold and wet November morning. Today, their voices cracking with emotion, relatives of those who died tried to explain what made their loved ones special.
We heard about Robert Huxley. He was one of life's true gentlemen, a loyal family man with old-school values, his son Ross explained. A man with a wonderful sense of humour, who was passionate about football.
Lorry driver Donald Collett was 62 when he died. His daughter Tracey described a hard-working man who made his family feel "special and loved". His death, she said had left "a trail of devastation".
The youngest victim was Dane Chinnery, just 19. In a tribute read by a lawyer, his mother Beverley Gray said he was a kind-hearted and generous man who loved to tell jokes. She would, she said, "never see him grow up, get married, have children".
When bricklayer Philip Logan failed to turn up for work, his wife Marilyn was left frantically trying to find out what had happened to him. In a statement read out by his granddaughter, she said it took a week before the coroner officially notified his death. It was, she said, a "horrible" way to get confirmation.
Mark Smith was a "vibrant young man", his mother, Jean said. He was a good talker, a good listener and a good mediator; a popular member of his local gym. His son was just 18 months old when he died.
Ann Seary told of her heartbreak at losing her husband Philip. The 57-year-old electrical engineer was described as kind, hard-working and much loved.
A tribute to Dorota Rynkiewicz came from her husband Andrzej. It was read out by the coroner herself. In it, he described a woman who worked hard at her job, but still managed to be a wonderful mother to her two daughters.
Not a day went past, he said, when he and the girls didn't miss her terribly.
Robert Huxley's son Ross told the inquest his father had been "loyal, dependable and totally committed" to his family.
The football-mad father of two started his career as an electrician at the age of 15 alongside his twin brother, and had a career spanning 40 years.
"Bob was always there for those who needed him and was a very generous man, not just with material things but with the most precious gift of his time," Mr Huxley said.
Marilyn Logan, widow of Philip Logan, told the inquest that she and her husband had been together for 32 years, and had grown up together in the Croydon and Thornton Heath area.
The couple's granddaughter Danielle said Mr Logan, a bricklayer and builder, had been a loving stepfather to her four children and had been obsessed with being outdoors and home improvements.
The inquest hearing continues.
Related Internet Links
The BBC is not responsible for the content of external sites.