Rare orchids found in City of London bank's rooftop garden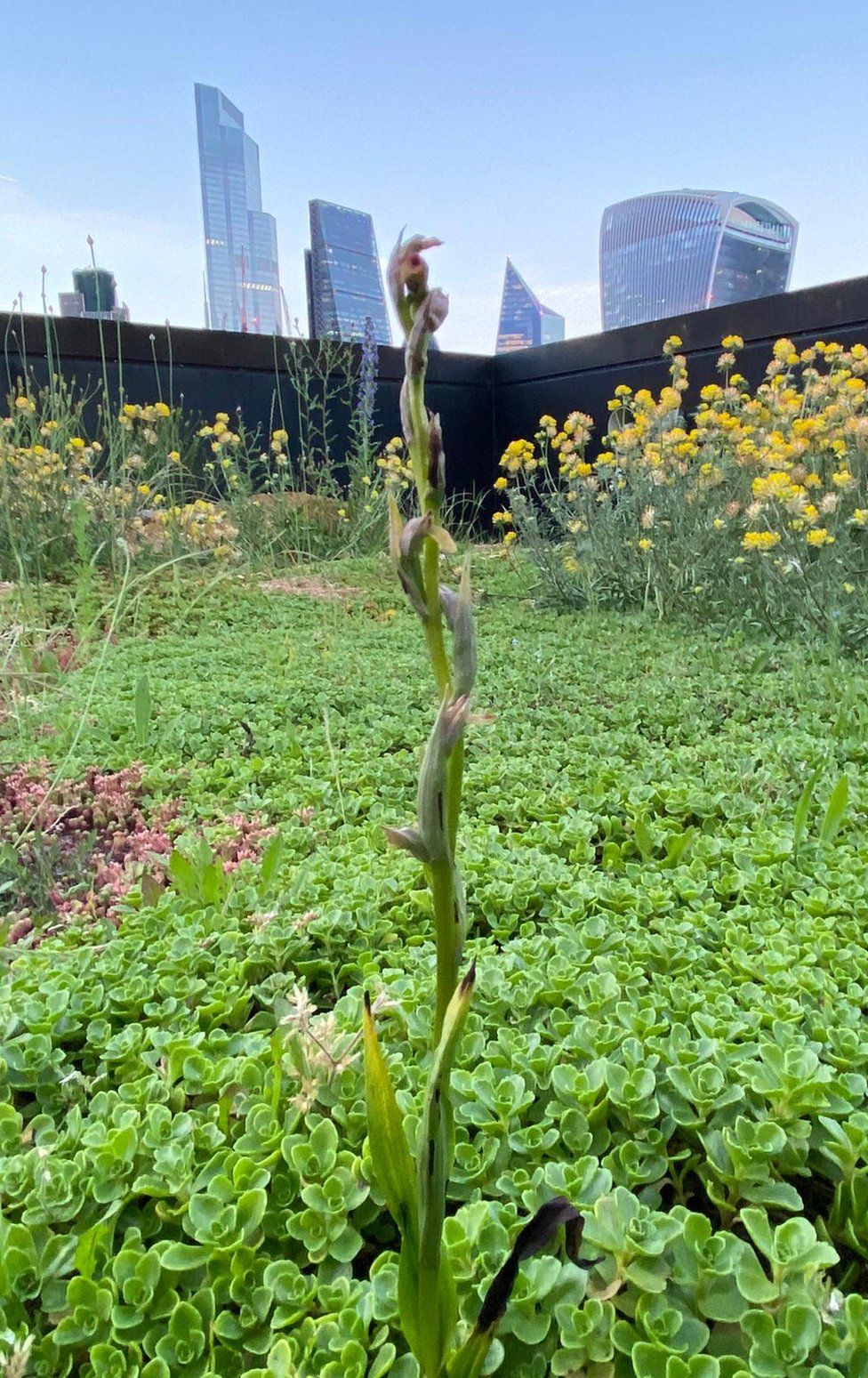 A colony of rare orchids has been discovered growing on the rooftop of an office building in the City of London.
It is the first time the small-flowered tongue-orchid has been seen in the UK since arriving in Cornwall in 1989.
Serapias parviflora is generally found in the Mediterranean basin and Atlantic coast of France, Spain and Portugal.
The 15 plants growing in Nomura International's 11th-floor garden represent the entire known wild UK colony of the species.
The joy of the previous colony's discovery, at Rame Head in Cornwall in 1989, was in sharp contrast to the pain felt when it disappeared 20 years later. At this point, the small-flowered tongue-orchid was thought to have become extinct as a wild plant in the UK.
Tom Edwards, BBC London environment correspondent
Looming over us are the huge, glinting towers of the City - we are on the Nomura bank's huge grass roof, which is a haven for wildlife and biodiversity. It is a carpet of sedum, grasses and flowers.
There are 17 species of bee up here and 159 species of plant. It is dry and arid due to the concrete and the urban heat island effect and it's perfect for these rare orchids more commonly seen on the continent.
There are 15 of the small delicate orchids and they flower for just a few weeks. With the changing climate, ecologists say it's likely we'll find more Mediterranean species in London.
And these green roofs are now a regular sight across London and have become an important place for wildlife, which now includes species unseen in the UK for some time.
Nomura's ecologist Mark Patterson, who manages the roof garden at 1 Angel Lane, discovered the small-flowered tongue-orchids during a monthly survey.
How the plant came to be in the Japanese investment bank's roof garden remains unknown, although as Mr Patterson points out, its seeds can travel great distances by wind.
"The plants could have originated on the continent and been brought over the Channel on southerly winds which frequently bring Saharan dust deposits to the capital," he said.
"Once settled on the Nomura roof, the seeds would have formed a symbiosis with a mycorrhizal fungus enabling them to germinate and grow. Whilst possible, the odds are astronomical."
Related Internet Links
The BBC is not responsible for the content of external sites.