Molesey Lock: Lightning-strike selfie lands siblings in hospital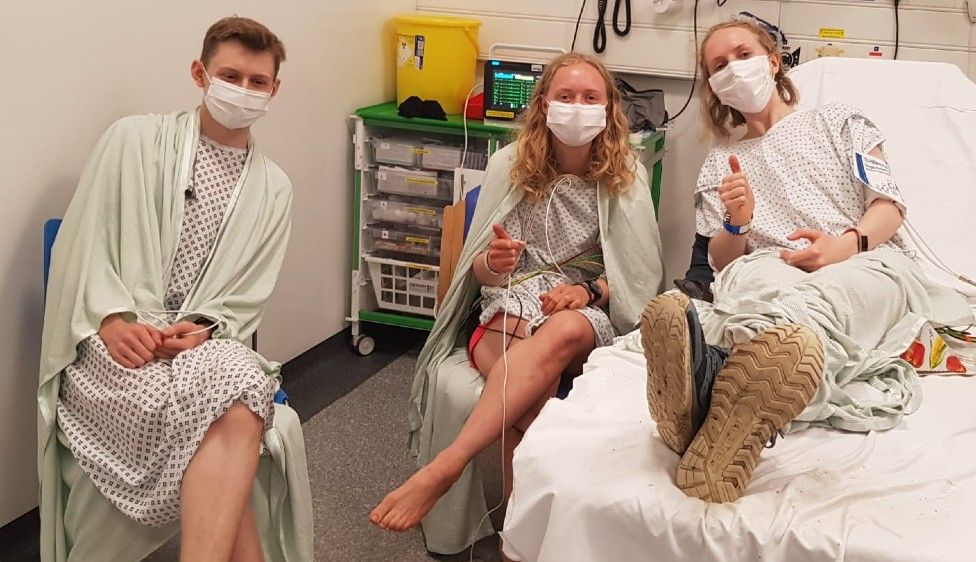 Three siblings are counting their lucky stars after they were hit by lightning.
Rachel, Isobel and Andrew Jobson were cycling when they took shelter under a tree close to Molesey Lock, near Hampton Court Palace in south-west London, during Monday's heavy rain.
But as they snapped a selfie, a lightning bolt struck the trio - with the moment captured on camera.
The three, from Maidenhead, were taken to St George's Hospital in Tooting with burns and discharged hours later.
Rachel, the eldest sibling at 26, said they had been on their way from their Berkshire home to see their aunt in Epsom, Surrey, when they decided to take a bathroom break, so stopping at the lock.
When she returned from the loo, she saw her brother and sister under some trees during a thunderstorm. They decided to take some pictures before setting off again.
PhD student Isobel, 23, said: "The picture of us at the moment the lightning strike happened was at 17:05.
"I took a picture of us smiling and we then wanted a sad picture in the rain.
"All of a sudden I was on the ground and couldn't hear anything apart from this high-pitched buzzing.
"My whole right arm was numb and I couldn't move it."
Rachel added: "We were taking the picture with our phone and then the next thing, I was on the ground. I felt disjointed. My sister and I were screaming.
"I got burnt on my thigh and stomach and it's left lightning-like marks behind on me and my sister. I couldn't feel my arm."
These patterns Rachel refers to are known as Lichtenberg figures.
Rachel added that all three were hurt, although brother Andrew was more stunned than anything else.
The siblings were helped to their feet by passers-by before paramedics turned up to take them to St George's Hospital in Tooting.
The family were told it was possible that a titanium plate in Isobel's arm following a cycling accident last year might have been what led to the lightning surging through their bodies.
Rachel said: "My sister's arm was very hot, because of the plate. Everyone was amazed at what had happened to us."
She paid tribute to the medical staff who looked after them.
Tori Cooper, head of nursing for the Emergency Department at St George's Hospital, said she was "delighted" to hear they were happy with the care they received, and "wished all three a speedy recovery".
On Monday 47.8mm of rain fell in a 24-hour period in Kew, most of it in just one hour. The average monthly rainfall in July is 44.5mm.
According to the Royal Society for the Prevention of Accidents, about 30 to 60 people are struck by lightning each year in the UK, with an average of three deaths.
The Jobson siblings were planning to return to the site on Tuesday to say thank you to Harriet, the owner of the H at Molesey Lock Cafe, for looking after them.
They have not yet decided whether to resume their cycling holiday, with Rachel adding: "I still feel a bit light-headed, while my sister's wrist is quite sore."
What to do when lightning strikes
Seek shelter inside a large building or a car
Get out of wide, open spaces and away from exposed hilltops
If you have nowhere to shelter, make yourself as small a target as possible by crouching down with your feet together, hands on knees and head tucked in
Do not shelter beneath tall or isolated trees
If you are on water, get to the shore and off wide, open beaches as quickly as possible