Life-sized Laurel and Hardy statues stolen again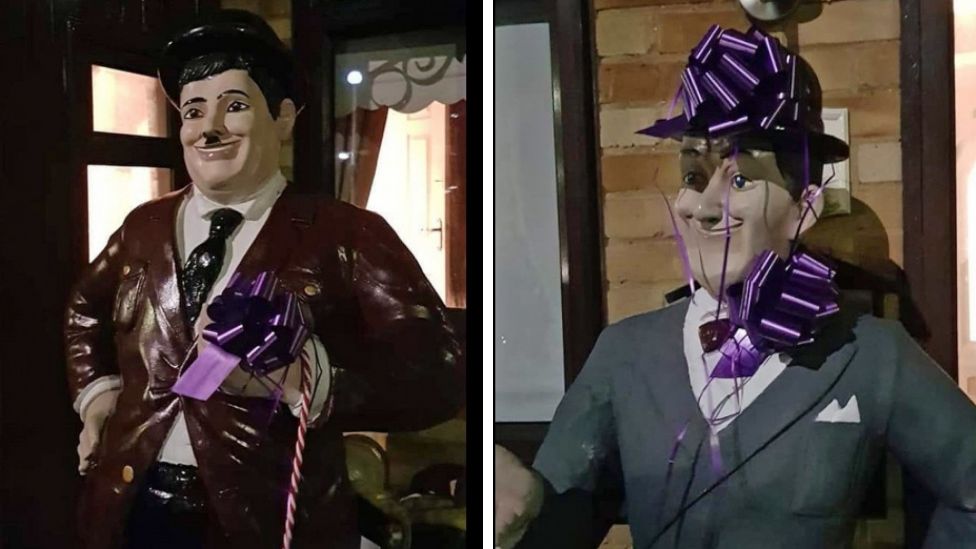 A couple say they are "devastated" after their life-sized figures of comics Laurel and Hardy were stolen from outside their home in east London for a fourth time.
Lesley Haylett bought the figures for her partner Peter Elliot 40 years ago.
They say the statues have been stolen numerous times over the years and most recently were returned in 2018 after being taken three years earlier.
The Met said the latest theft happened on Thursday morning in Romford.
Ms Haylett, 61, said: "I'm gutted, I can't believe that they have been nicked again. They're just so well known - everyone knows them.
"They're a part of the community. I never dreamed it would happen again.
"When they were last nicked someone kept sending us postcards and Christmas cards from Laurel and Hardy saying: 'We're having a great time, missing you guys, hope to be home soon.'"
Footage from cameras on the house shows a van driving past the property at just after 03:00 BST on Thursday.
A short while later a man, who appears to be wearing surgical masks on both his forehead and around his mouth and nose, climbs over a wall connecting Ms Haylett's and her neighbour's property.
He lifts up Hardy and pushes him over the wall before returning to collect Laurel and also pushing him over the wall.
The man in the footage is believed to be about 5ft 8ins with fair hair, Ms Haylett said.
The hairdresser said her husband, who has leukaemia and is in hospital for a bone marrow transplant, was "absolutely devastated".
She added: "If he wasn't in hospital, he'd be out there looking for them."
Related Internet Links
The BBC is not responsible for the content of external sites.