London's Tower Bridge reopens after technical failure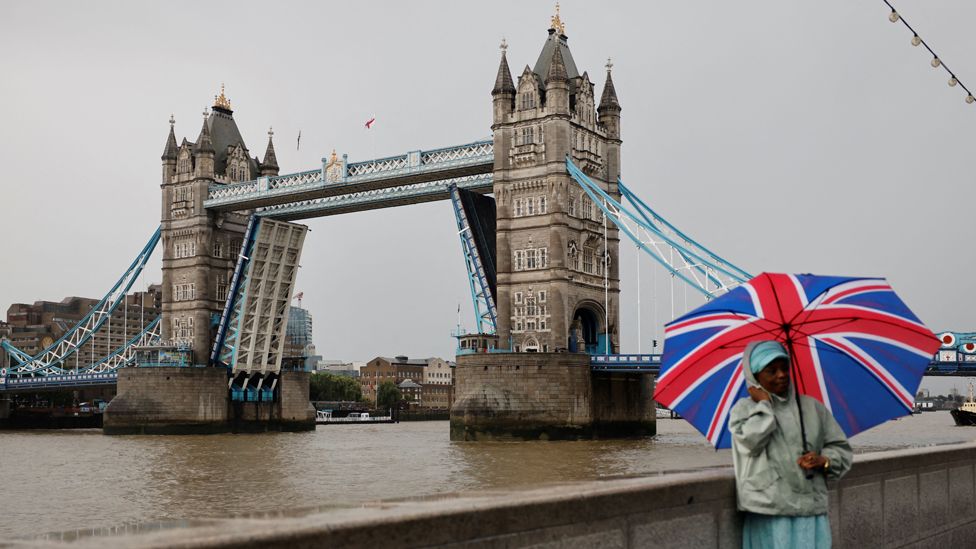 London's Tower Bridge has reopened to traffic after becoming stuck for almost 12 hours.
City of London Police said the 127-year-old landmark was closed "due to technical failure".
The bridge reopened to traffic at 01:45 BST on Tuesday.
Drivers - and pedestrians - had previously been warned to avoid the area.
Approach roads to the bridge were shut while repairs were carried out.
The two sides of the crossing became stuck at about 14:30 BST on Monday.
Transport for London (TfL) reported that traffic had been slow moving on both sides of the river during the afternoon.
Re: ⛔ #TowerBridge remains stuck following a technical fault, with the bridge Approaches still closed to traffic and pedestrians.
Q's on A200 Jamaica Rd, Lower Rd, thru' the #Rotherhithe Tunnel, A13 & Embankment is heavy from Temple. Fi pic.twitter.com/jbNv6Q8DYC

— BBC Radio London Travel (@BBCTravelAlert) August 9, 2021
The bridge, which took eight years to build and opened in 1894, normally opens about 800 times every year.
It was previously jammed in August last year when a mechanical fault meant it remained lifted for more than an hour.
A spokesperson for the City of London Corporation, which manages the bridge, said investigations into the failure were taking place but the source of the fault was currently unknown.
Construction work began on 22 April 1886 based on a design by City of London architect Sir Horace Jones
It was opened to much celebration by the Prince and Princess of Wales on 30 June 1894
The crossing is formed of two "bascules" which move around an off-centre pivot, allowing them to rise (the word bascule is French and can be translated as seesaw)
Steam was originally used to power the bridge but it was converted to electricity in 1976
Upon its completion the bridge was considered the largest and most sophisticated bascule bridge ever made
In 1952 a number 78 bus carrying 20 passengers had to leap from one bascule to the other when the bridge began to rise while it was being driven over
Related Internet Links
The BBC is not responsible for the content of external sites.