London City Hall: Delay in move to new home in East End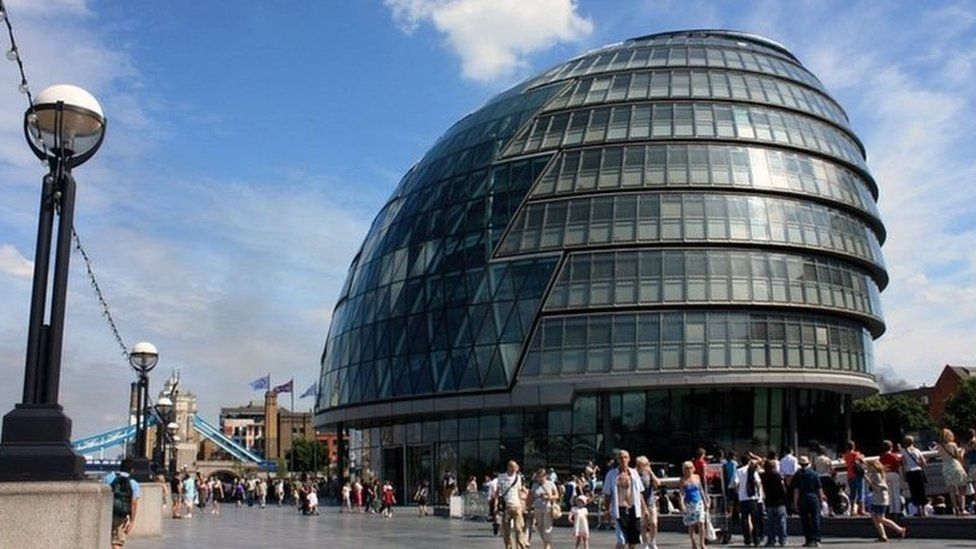 London's government is set to be "homeless" for at least two weeks because its new east London headquarters will not be ready in time.
The lease at City Hall will run out at the end of November but the Crystal will now not be ready until next year.
The Conservatives called the delay "hugely disappointing" but the mayor said the move was on track.
Susan Hall, Leader of the Conservatives on the Greater London Authority (GLA), said: "We warned the mayor that his plan to move to the Crystal building was half-baked.
"It's becoming clearer by the day that Sadiq Khan's decision to abandon a custom built home for City Hall is a catastrophic mistake for London's government.
"It is hugely disappointing that the London Assembly will be temporarily homeless."
City Hall, which was designed by Sir Norman Foster, has been the official home of the GLA since it was opened by the Queen in 2002 and occupies a prominent position on the south bank of the Thames.
The GLA has leased the building from a private landlord - the Kuwaiti-owned St Martin's Property Group - at a cost of more than £11m a year.
When the move was first announced City Hall predicted the GLA would be housed in the Crystal by October 2021.
The GLA will leave its current home on 26 November - though assembly meetings scheduled for the first week of December will still take place at City Hall.
The BBC understands contingency plans - including moving into the Barbican for six months - have been drafted in case of a delay in the move.
But it is not yet clear where full assembly meetings will take place for between 6-17 December - when one full meeting of the assembly for Mayor's Question Time is scheduled.
Meetings of GLA committees will still be able to continue in City Hall owned buildings.
A spokesperson for the Mayor of London, said: "The GLA is on track to move to The Crystal building in the Royal Docks by Christmas, saving taxpayers £61m over five years.
"Arrangements will be put in place to hold assembly meetings due for later in December at a suitable alternative location."