Insulate Britain blocks roads around Parliament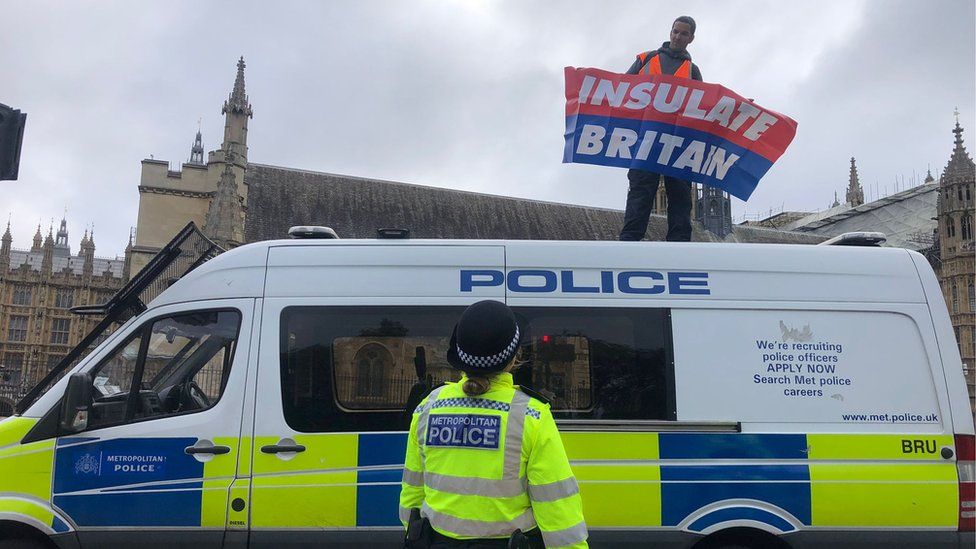 Insulate Britain protesters have blocked two roads around Parliament Square in Westminster.
The group said more than 60 activists had gathered at Bridge Street by Westminster Bridge and the peers' entrance to the Houses of Parliament.
Met Police officers arrested 59 protesters at the scene.
In a statement, Insulate Britain said: "We have exposed the government's refusal to act on home insulation as cowardly and vindictive."
It added: "Their refusal to protect our country and our children from the climate crisis is genocidal and treasonous."
Insulate Britain - which campaigns for homes to be low energy by 2030 to fight fuel poverty - called itself "one of the most successful campaigns in history".
Transport Secretary Grant Shapps has accused the group of "risking lives and ruining journeys".
Paul Sheeky, a protester from London, said: "We have been out on the road now for several weeks and a lot of the time the drivers say to us, 'this is not the right way to be doing this, go to Parliament, protest there'.
"We thought we would take that advice and give it a go."
One protester told the BBC he had glued himself to a police van to "highlight the government failure to act on the climate emergency".
"We have 8,500 people dying each year of fuel poverty - that's 100 people a day during the winter," he said.
Insulate Britain has staged various demonstrations in recent months, including ones earlier this week when about 60 activists descended on junction 23 of the M25 near London, junction 6 of the M56 in Manchester and the A4400 in Birmingham.
Skip twitter post by Dehenna Davison MP
I just went to chat to some of the Insulate Britain protestors who are blocking Westminster Bridge and the route to St Thomas' Hospital.

Don't worry, folks. They're "letting" ambulances take a different route… pic.twitter.com/JJclxiCsW5

— Dehenna Davison MP (@DehennaDavison) November 4, 2021
The BBC is not responsible for the content of external sites.
End of twitter post by Dehenna Davison MP
Since Insulate Britain started its direct action, there have been more than 800 arrests.
Nine members of the group are due to appear at the High Court on 16 November accused of breaching a National Highways injunction.
Related Internet Links
The BBC is not responsible for the content of external sites.