Hershel Fink anti-Semitism row: Royal Court theatre backers withdraw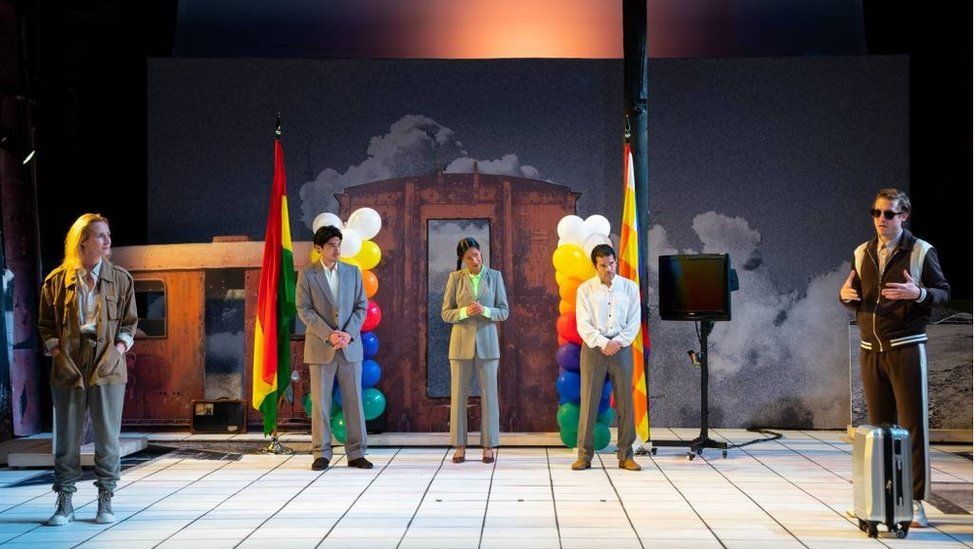 Two corporate backers of London's Royal Court theatre are withdrawing financial support in the wake of an anti-Semitism row.
The theatre apologised and changed the name of a character in a new play, Rare Earth Mettle, after being accused of perpetuating an offensive stereotype.
The row surrounded the role of Hershel Fink, a manipulative billionaire who, despite the name, is not Jewish.
Following complaints to the Royal Court, Hershel Fink became Henry Finn.
Two of the Sloane Square theatre's corporate sponsors, law firms Kirkland & Ellis and Weil, Gotshal & Manges, told BBC London they would no longer fund the Royal Court.
A spokesperson for Kirkland & Ellis said: "We condemn in the strongest possible terms any and all forms of racism and discrimination, including anti-Semitism, and in light of the recent events, we were unable to continue our sponsorship."
Weil, Gotshal & Manges, the theatre's only "gold" corporate sponsor, said: "Weil strongly condemns any form of anti-Semitism or discrimination, whether conscious or unconscious, and we will be withdrawing our support for the Royal Court."
The play, by Al Smith, originally featured Hershel Fink as the CEO of an electric car company. Marketing material for the production, it was reported in the Times, appeared to portray a messianic billionaire trying to monopolise the earth's resources.
Critics pointed out this was an obviously Jewish name, yet the Hershel Fink character was not Jewish.
"This image is a stereotype as it shows a Jewish person in a malevolent way, so it's a racist depiction of a Jewish person - rich, controlling, in power," said Frances Jeens, interim director of London's Jewish Museum.
"These are deeply hurtful stereotypes that have existed for centuries and is something that is very hurtful to the Jewish community today."
Comedian and author David Baddiel posted on Twitter: "The Royal Court claims they didn't realise 'Hershel Fink' was a Jewish name. Hmmm. Somehow it just sounded so right for a world-conquering billionaire."
At the beginning of November, theatre management said they were unaware Hershel Fink was a Jewish name and that they and the writer were "deeply sorry" about what had happened, adding that it was "an example of unconscious bias" they would "reflect deeply on".
It has since emerged concerns were raised about the character's name as early as September - two months before the theatre claimed ignorance and apologised.
"On 8 November the leadership of the Royal Court was informed that the name had been raised by a Jewish director in a workshop discussion held as part of the series Directors: Working on New Plays in September 2021," said the theatre in a statement released to the BBC.
"We are in conversations with this director as we hold ourselves accountable for why this was not taken further or passed on to the writer."
The theatre said it was steering an internal review and working with members of the Jewish community to "understand how this harm was committed".
The government's independent anti-Semitism adviser, Baron Mann, told the BBC that companies financially backing the Royal Court theatre should seek answers from the venue about what had happened.
He said there were serious questions about how a theatre - which has received more than £10m pounds of taxpayers' money over the past five years - managed the affair.
"There should be resignations. It's not credible to continue a major arts venue like this with that kind of approach, attitude," he said.
"This is horrendous stuff. It's almost as simple as it gets. If this was some amateur dramatic society, I'd be horrified and want them to understand the hurt they've caused but this is a level far higher than that.
"And if people aren't prepared to act on racism when it's pointed out to them, they shouldn't be in their roles, it's as simple as that."
The BBC approached the Royal Court's other corporate sponsors to seek a response to Lord Mann's comments.
There was no response from Aqua Financial Ltd, Cadogan, Colbert, Edwardian Hotels London, Kudos, Sloane Stanley, Bloomberg philanthropies, and Left Bank pictures, which are all listed as corporate sponsors or platinum/gold or silver corporate members of the theatre. Two other sponsors, Sister and Auriens, declined to comment.
The BBC contacted the Royal Court several times to ask for an interview with its artistic director, Vicky Featherstone, who oversees the theatre and initially commissioned the play, but these requests have never been accepted.
Related Internet Links
The BBC is not responsible for the content of external sites.