Police officer who stopped knifeman wins bravery award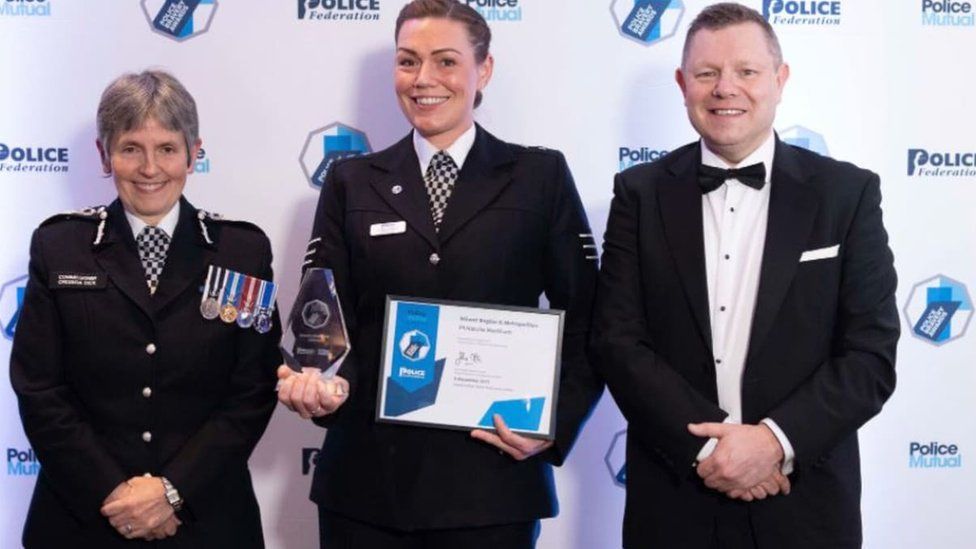 A police officer who chased down a man despite him trying to kill her has won a bravery award.
Met Police's Sgt Natalie Markham had been responding to a report of a man threatening to stab people at a hostel when he launched an attack on her with a knife in Clapham in 2019.
Despite the suspect attempting to kill her, she continued to chase him until he was stopped.
For her efforts, Sgt Markham received a Police Federation bravery award.
She said: "I'm just so glad my training kicked in. If it hadn't, he probably would have got away and maybe gone on to hurt someone else.
"I remember my governor saying 'I can't believe you chased him for seven minutes after he just tried to stab you' and I said 'Oh yeah, I didn't think about it like that'."
The incident on 22 October 2019 started when Sgt Markham and a colleague turned up a hostel in Lynette Avenue, Clapham, where fearful staff had locked themselves in their office.
When the officer tried to detain the suspect, he got out two knives and stabbed her, hitting her body armour which saved her from suffering any physical injuries.
She then discharged her taser at him and chased after him when he got up and ran off, until he was stopped by colleagues in Clapham Common.
The man was subsequently convicted of the attempted murder of Sgt Markham, threats to kill and possession of a weapon.
Related Internet Links
The BBC is not responsible for the content of external sites.