Jermaine Cools: Parents fear murder detectives have hit a 'wall of silence'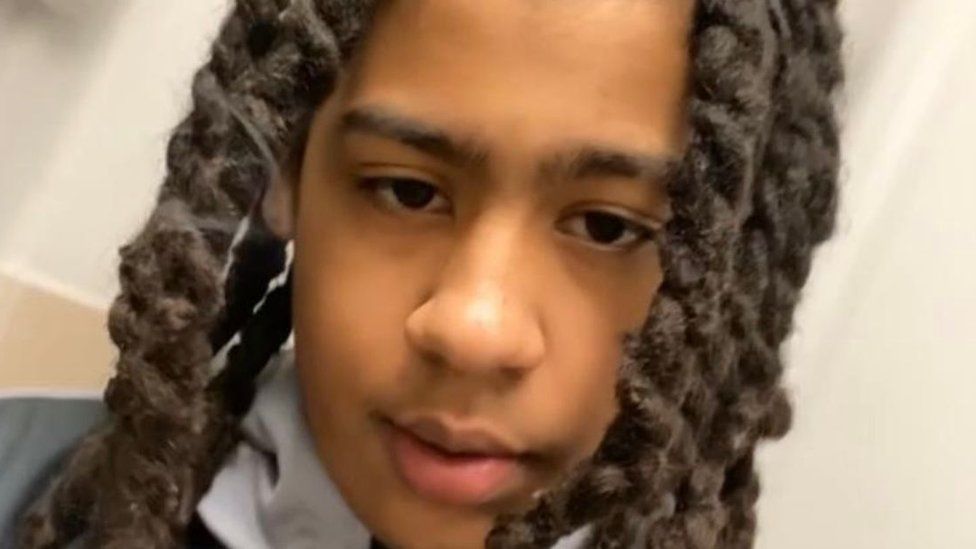 The family of a 14-year-old boy killed in south London nearly a month ago fear murder detectives have hit a "wall of silence".
Jermaine Cools was attacked near to West Croydon station on 18 November and later died in hospital.
His parents told BBC London they should be buying Christmas presents, but instead find themselves in a surreal world of seeking justice and evidence.
The Met confirmed no-one has been arrested and inquiries are continuing.
Jermaine is believed to be the youngest teenage homicide victim to be fatally stabbed in the capital this year.
His parents, Lorraine Dudek and Julius Cools, say they have described the last few weeks as "brutal" and spoke about a frustration of Jermaine's killers being able to "evade justice".
"He was just 14 years old," Ms Dudek said.
"The police have hit a wall of silence. There are a lot of people that know the identities of the people involved in Jermaine's murder - and there was more than one person.
"People know who they are and they are not coming forward with that information.
"You wake up in the morning and for a second you think that it wasn't real and then it hits you with the same amount of force that it did the day it happened.
"Jermaine was the life and soul of our house. Always running around, listening to music the house is now just empty and sad."
Jermaine was with his brother when they were attacked on London Road at 18:40 GMT.
The schoolboy took himself to hospital despite suffering multiple knife wounds but died 30 minutes later.
Det Ch Insp Richard Vandenbergh, who is investigating the murder, said: "Jermaine was a central member of his family, and his parents have been left devastated and without a son.
"At the very least, they are owed an explanation for why their son was killed, and police will continue to work relentlessly to ensure the people responsible are held to account."
On London Road a shrine has been created for Jermaine, with numerous bouquets of flowers and handwritten messages left in the spot where he was killed.
His father said: "It feels like he is the next black boy who has been killed on the street and this is not right.
"Jermaine was everything to us, but there are people out there hiding and still living free seeing their family when I can't see my son."
Related Internet Links
The BBC is not responsible for the content of external sites.