Fatiha Sabrin: Girl who died in chemical incident was talented writer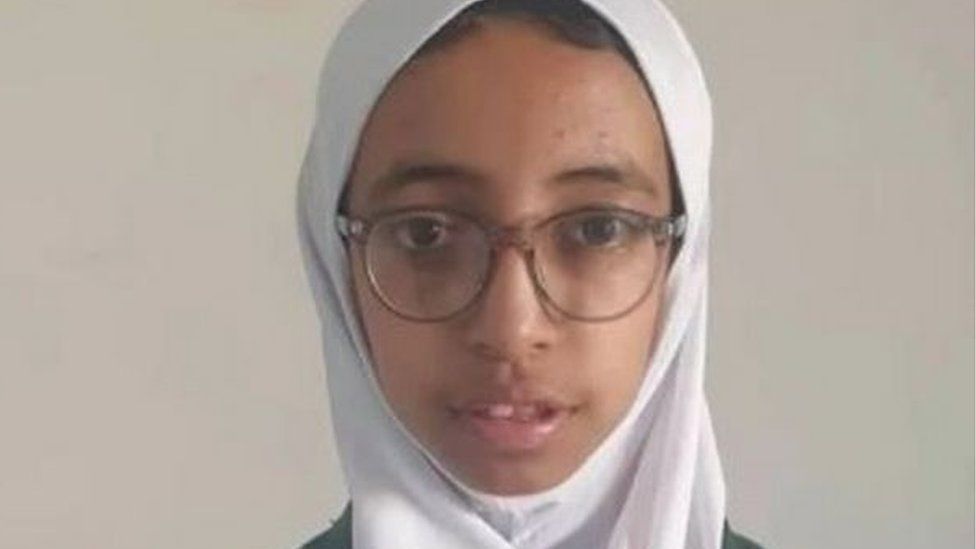 A young girl who died after pest control chemicals were found at her home has been recognised by a writing competition days after she passed away.
Firefighters found "a quantity of chemicals" in the building. Police are investigating.
Her school has since found out her work will be published after impressing Young Writers' judges.
She had entered the competition with her poem "This Is Me, Fatiha".
Buttercup Primary School's head teacher, Zara Rahman, said when she heard Fatiha had been recognised for her poem, she thought "my God, it's like she's writing her own obituary".
"At that moment I was numb because young writers can choose anything, an animal for example. It was just so related to who she was. It's like she wrote her own memory.
"It's really nice that we can remember her like that, in a book that will be published. I'm sure she would have been really happy to have that book."
Fast and strong like an athlete
Talented like a famous author
Intelligent like a scientist
Angelic like a beautiful angel.
About 20,000 children had entered the competition. Work is selected for publication based on perception, imagination, expression, creativity and use of language.
She added: "They [the Young Writers Competition] didn't know that she'd passed away."
"She was an intelligent girl and she had so many aspirations. She just did her 11+ exam which is very rare in the school, and she was a talented writer. We all knew she was a talented writer," said Ms Rahman.
"I think of her being thoughtful about others. She was always there, keen to help others in her class, who were lagging behind or needed extra support in their work and she was a really kind, thoughtful child. Very selfless."
She added: "The kids in her class were all in tears, looking at her empty seat. It's hard to explain to primary kids who are just crying, trying to answer their question of what happened."
The Met Police said the chemicals were believed to be used for pest control and officers were investigating how they came to be in the building.
Three others who reported feeling unwell in the same building remain in hospital.
Santiago, who lives in the same block of flats, said the block had rats and cockroaches.
He said his two-year-old nephew was admitted to hospital after he kept vomiting and his skin began to turn yellow.
"I was very worried because we were not sure what was going on in the building," he said.
"It was scary. I thought if my sister and nephew were one hour or two hour more in the flat, they were going to die too."
Related Internet Links
The BBC is not responsible for the content of external sites.