XR protests enter fourth day as oil facility near Heathrow blocked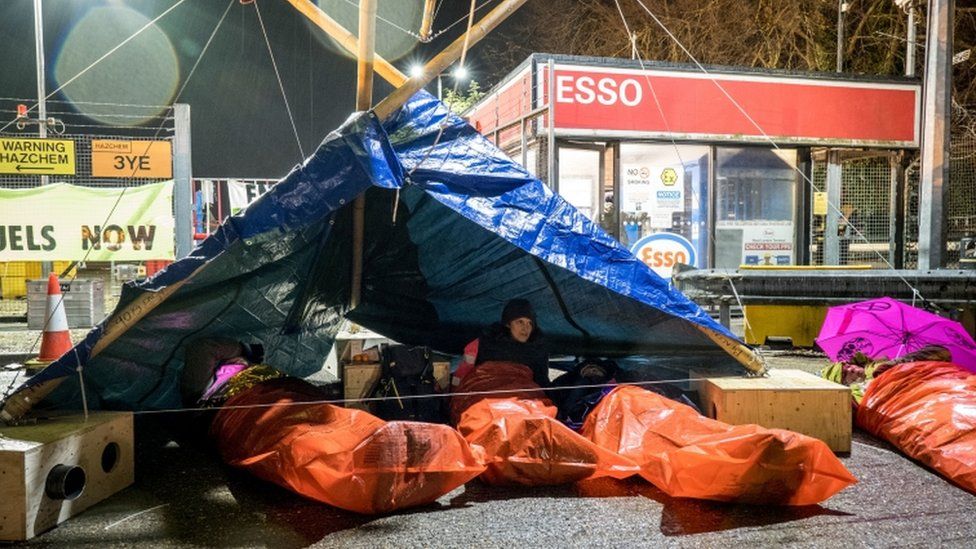 Climate change campaigners have staged a protest at an oil facility near Heathrow Airport on their fourth day of action.
Extinction Rebellion (XR) said about 30 protesters returned to the Esso West fuel terminal in west London at 04:00 BST.
It is part of a campaign to urge the government to stop using fossil fuels.
ExxonMobil said its facility had "resumed normal operations" on Monday evening,
It added its remaining four fuel terminals continued to operate normally.
A banner with the words "end fossil fuels now" was earlier seen on one of the two main gates.
The pictures show two bamboo structures with tarpaulins were locked on to the perimeter fencing.
XR claimed several people were locked to this; a Facebook video showed about 10 protesters.
It also showed the Met Police deployed at least 12 officers to the scene - they could be heard warning the protesters they were committing the offence of aggravated trespass.
Since Friday, Extinction Rebellion and a second campaign group, Just Stop Oil, have staged a number of protests at oil terminals and refineries across the UK.
More than 80 people were arrested in Essex over the weekend, while 14 were held in Staines, Surrey, and six were arrested in Birmingham.
The group said further action was expected on 9 April in London's Hyde Park.
Hertfordshire Police officers were at Buncefield oil terminal in Hemel Hempstead in the early hours of Sunday after about 30 protesters returned to the Green Lane site.
The majority were blocking the entrance and a number of them managed to get inside the terminal.
Nineteen protesters agreed to leave, the force said, adding that 41 people had been arrested in connection with the protest in Buncefield.
Protesters glued themselves on to roads and locked themselves on to oil drums and each other.
ExxonMobil UK, one of the country's largest privately owned underground oil pipeline distribution networks, said it shut down three of its terminals as a result, and police from at least five forces were deployed to tackle the demonstrations.
In an earlier statement an ExxonMobil spokesman said: "While we respect the right to peaceful protest, our priority is the safety of our people, our neighbours, the protesters and our operations.
"We empathise with anyone from the local community experiencing any inconvenience resulting from the actions today of this group."
Essex Police has arrested 10 more people linked to JustStopOil protests - bringing the total number of arrests since protests began on Friday to 172.
Assistant Chief Constable Rachel Nolan said the "aim is to bring the areas affected back to normality as quickly as possible".
"We continue to work today, alongside our key partners, to bring these protests to a safe conclusion, prevent any risk to the public and to minimise the impact being caused to the community.
"I want to again emphasise that policing is not anti-protest, and we will always endeavour to facilitate protest where we can.
"However, we must intervene when there is a risk to life or where laws are being broken - and we will continue to do so."
Related Internet Links
The BBC is not responsible for the content of external sites.