Gummies: Woman dies after eating 'synthetic cannabis' gummy sweet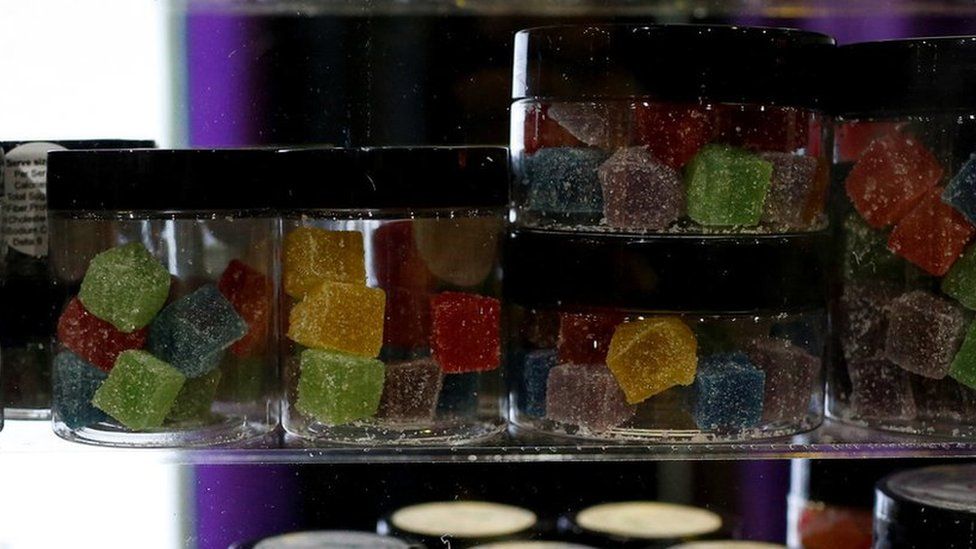 A 23-year-old woman has died after eating a synthetic cannabis sweet that was delivered to her door.
The woman and her friend, aged 21, ordered the sweets - also known as gummies - to her Ilford home via a messaging app last Tuesday.
They each ate one sweet and immediately felt unwell. Both were taken to an east London hospital, where the woman died on Saturday.
The second woman was discharged from hospital following treatment.
Leon Brown, 37, from South Norwood, has been charged with possession with intent to supply Class B synthetic cannabinoid, being concerned in the supply of a synthetic cannabinoid and possession with intent to supply a psychoactive substance.
The Met Police said he was found with a large quantity of cash and what were believed to be edible cannabis products.
He appeared in custody at Barkingside Magistrates' Court on Monday.
A post-mortem examination will be arranged in due course; tests have been conducted on a number of sweets recovered by the police.
Officers are working to identify any other cases where people have become seriously unwell after eating synthetic cannabis sweets, gummies or similar products.
They are aware of one potentially linked case in which a woman was taken unwell earlier in March after eating a cannabis sweet in Tower Hamlets. She was taken to hospital and later discharged.
Inquiries are ongoing to establish whether this sweet was part of the batch of sweets associated with the woman's death.
Ch Supt Stuart Bell, from Met Police, warned people against taking illegal substances, including those packaged in the form of cannabis sweets.
"Please do not buy or consume these products. They are illegal and, because of the child-friendly packaging, they can pose a risk of accidental consumption," he said.
He added that this particular batch of sweets was contained in packaging featuring "Trrlli Peachie O's" branding. It has not been confirmed at this stage where the sweets were manufactured.
"Drug dealers harm communities and risk the safety of individuals. We will take positive action to target those engaged in this activity as well as those found in possession of these substances."
Anyone with information has been urged to contact police.
Update 19 April: The headline and picture caption in this story have been changed to make it clear that the gummies were made using synthetic cannabis.
Related Internet Links
The BBC is not responsible for the content of external sites.