First Tube map featuring new Elizabeth line unveiled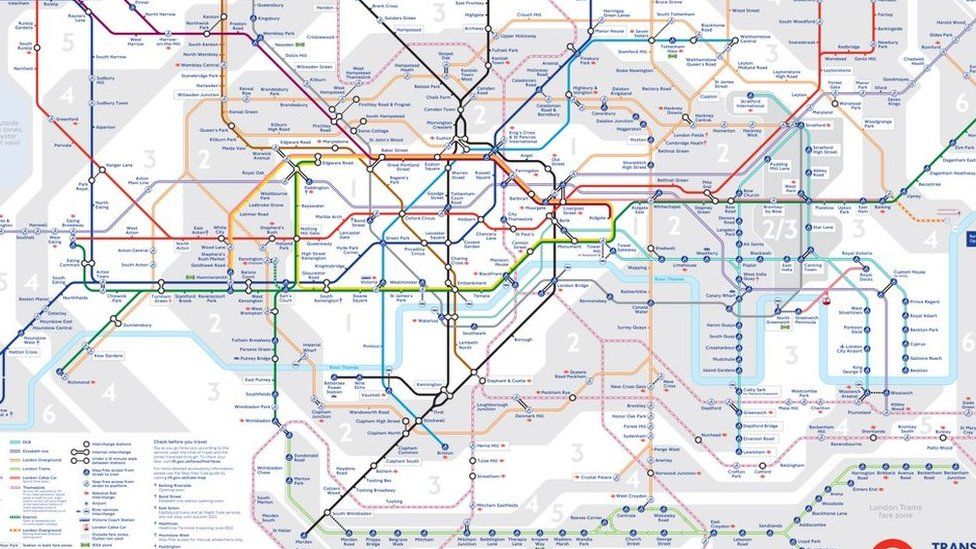 The first official Tube map featuring the new Elizabeth line has been unveiled by Transport for London (TfL).
The line appears in royal purple as a double, rather than solid, line and runs from Paddington to Abbey Wood.
There will be 12 trains an hour running through tunnels under London constructed by Crossrail.
Passengers can make their first journeys from next week from Tuesday 24 May and the route will be step-free by the end of the year.
Julie Dixon, interim customer and revenue director at TfL, said the line would "serve London and the south-east for hundreds of years to come", and it was a privilege to "literally put a new piece of transport history on the map".
To differentiate the new railway line from London Underground lines, it appears as double purple "train tracks" rather than a solid line.
The free TfL Go app will be updated to show the route and existing TfL Rail lines from Paddington to Heathrow and Reading, and from Liverpool Street to Shenfield, will be rebranded in Elizabeth line purple.
The app also shows accessibility information for users and stations from Paddington to Woolwich and at Heathrow already provide level access from platforms to trains.
Bond Street Elizabeth line station will open later this year with two entrances, one at Davies Street and one at Hanover Square.
Related Internet Links
The BBC is not responsible for the content of external sites.