Grenfell Tower: William and Kate attend memorial service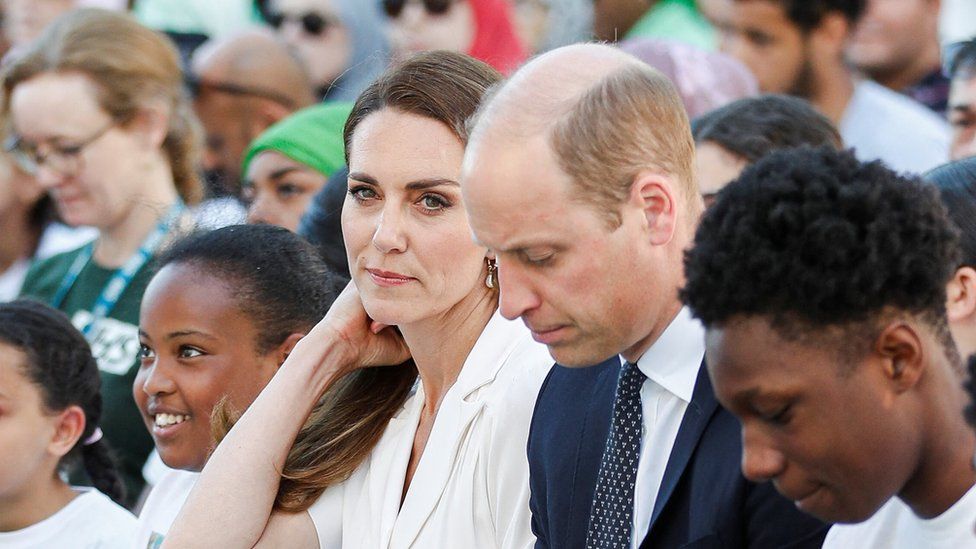 The Duke and Duchess of Cambridge have joined bereaved families and survivors of the Grenfell Tower fire to mark its fifth anniversary.
Seventy-two people were killed by the blaze in North Kensington, west London, on 14 June 2017.
The couple joined mourners at the base of the tower for a special service having earlier met several during a private meeting.
A 72-second silence was observed by attendees, concluding with applause.
The attendance of the duke and duchess was "huge" for the community, a local resident said.
Muna Hussain, whose children went to the same school as five of those who died, said: "I was glad to see at least they know how we are feeling as a community and they shared that feeling.
"It makes me very happy. It's massive, it's huge for us. It makes you feel better."
During the service, actor Tim Downie said: "At today's service we honour the 72 innocent men, women and children, mothers, fathers, sons, and daughters, sisters, brothers, cousins, aunts, uncles, nephews, nieces and friends who needlessly lost their lives.
"We must never forget them and carry them with us forever in our hearts."
Many mourners wore green scarves and clothing to match the green hearts that adorn the wall below the tower and which have become a symbol of the tragedy.
Floral tributes and personal notes have been left beside the wall, including a "72" made of white flowers.
Afterwards, several hundred people carried out a two-mile walk around the area.
Dozens of firefighters lined the streets, with many holding green hearts reading "Grenfell", and onlookers applauded as the mourners passed.
Earlier, a multi-faith memorial service was held at Westminster Abbey.
It began with the names of the victims being read out followed by a reply of "forever in our hearts" from the congregation.
Former prime minister Theresa May, Mayor of London Sadiq Khan and Housing Secretary Michael Gove were among those in the congregation.
Journalist Jon Snow, who was invited to speak at the service, said: "Grenfell, set in the richest borough in Britain, speaks to the grotesque inequality with which our society has been riven.
"We must now confront the issues raised by the Grenfell disaster."
Lawyer Imran Khan, who also addressed the congregation, said: "For the residents of Grenfell, their home wasn't their castle, it was their deathbed."
BBC News correspondent Nick Johnson
From scarves and flowers, to altar cloths and decorations, Westminster Abbey was adorned in green as hundreds gathered for this memorial service to remember those who lost their lives on this day five years ago.
At the very heart of the service was a sense of unity and remembrance. Members of the congregation held hands, comforting those who were weeping, as the names of each of the 72 victims were read out.
We heard from Marlene Anderson.
Her father Ray "Moses" Bernard lost his life in the fire. His daughter spoke of her trauma and how she and other family members often relive that night.
Perhaps the loudest round of applause came after lawyer Imran Khan's speech. He spoke of his disbelief over a lack of criminal charges and described the public inquiry into the fire as ineffective.
As the congregation filed out of the Abbey, 72 candles were left flickering on the altar, a reminder that the Grenfell victims will never be forgotten.
Elsewhere in the capital, a 72-second silence was observed at 14:00 at the Westfield shopping centre in Shepherd's Bush.
Natasha Elcock, chairwoman of campaign group Grenfell United, said this week would be difficult for all of those affected.
"For many of us the events five years ago are still so raw in our minds and our losses remain heavy in our hearts," she said.
Raheleh Afraseibi, who lost her mother Fatemeh and aunt Sakineh in the fire, said the "catastrophe is never-ending for us".
"We don't want them to just say 'Never forget', we want it cemented in some way," she added.
Members of the Grenfell Next of Kin group, which also represents those bereaved by the tragedy, said they did not want their loved ones' deaths to have been in vain.
London fire commissioner Andy Roe said he had found the strength and dignity of the Grenfell community "humbling and inspiring".
He added: "I give my commitment that we will continue to listen and make changes to our service and work to drive improvements in the built environment to ensure such a tragedy can never happen again."
While a criminal investigation into the disaster is under way, the Met Police has said no prosecutions will be brought until the public inquiry is finished and its findings are published.
So far, fewer than half of the recommendations from the inquiry have been adopted into law, according to the Home Office.
The Department for Levelling Up, Housing and Communities (DLUHC) said it was taking steps to ensure buildings were safer.
A spokesman said: "The Grenfell Tower tragedy must never be allowed to happen again and our thoughts are with the bereaved families, survivors and residents."
Related Internet Links
The BBC is not responsible for the content of external sites.