Islamophobia: Muslims describe abuse suffered at work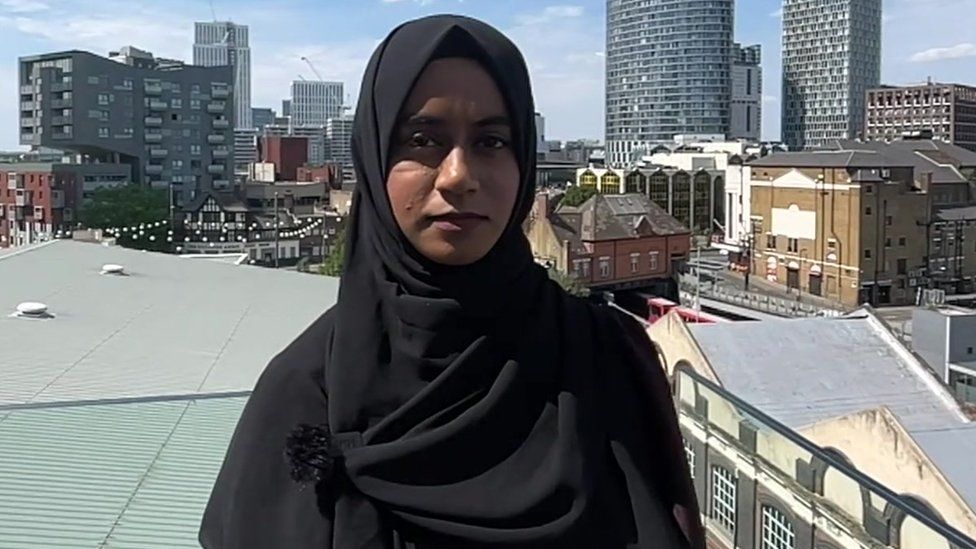 A London-based charity that helps Muslims facing Islamophobia says people are being bullied and harassed at work because of their religion.
Islamophobia Response Unit says clients have had prayers mats stolen and have been verbally and physically assaulted.
Faiza Mukith, who works for the charity, said one man's colleagues had "physically pulled on his beard".
They also referred to him as "Jafar" - the main antagonist in the Disney film Aladdin.
Islamophobia Response Unit CEO Ms Mukith said a woman had bacon placed in her lunchbox by colleagues when she came to break her fast while working during Ramadan.
She said another woman had a heart attack due to being badly harassed at work.
"Her medical professionals were able to correlate the experiences she was having at work to impact her health in that way," Ms Mukith said.
Sheymaa, who does not want to use her last name, left her workplace because of Islamophobia.
"I was the only visibly Muslim person there and one of the only black people there," she says.
"A lot of my co-workers were white and much older - their views were quite hateful sometimes."
She said following the Covid-enforced lockdown, they were given visors to wear as part of their uniform which led to more hateful comments.
"One colleague told me I looked like I worked with bombs and another one told me, on a separate occasion, that I looked like Gaddafi's bodyguards.
"Being associated with terrorism and bombs and dictators just because of my hijab - it hurt."
Ms Mukith said such abuse had a "long-term damaging impact".
In the past four years the charity said it had dealt with 387 cases of discrimination.
"In the beginning we saw a lot of hate crime cases, a lot of physical assault, verbal abuse, harassment in the street, but now we're seeing a lot more discrimination, especially discrimination in the workplace," she said.
"It's on the rise - it's not changing."
Hyphen's editor, Burhan Wazir, said: "Some of the people we interviewed who have had first-hand experience of this had some pretty horrific stories to tell."
He said employers needed to do more to stop racism at work.
"You can raise awareness of issues of racism and Islamophobic behaviour in the public sphere but unless [it's] tackled on an institutional level, it is hard to see progress.
"So it is up to companies, public and private institutions, to really debate what processes and training need to be in place and how you create a better awareness of islamophobia."
If you've been affected by issues raised in this report, the BBC Action Line has a list of organisations who may be able to help.
Related Internet Links
The BBC is not responsible for the content of external sites.