Hammersmith Bridge wrapped in foil during heatwave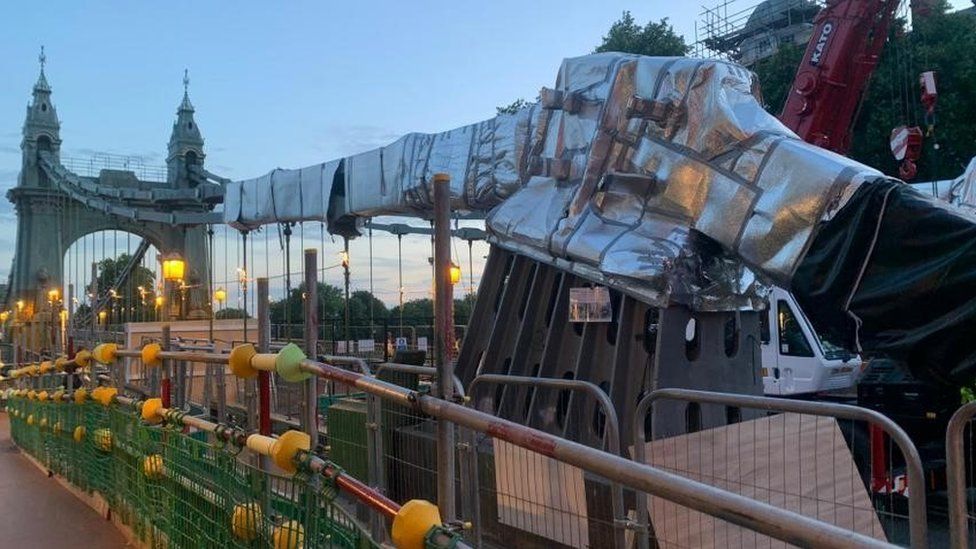 Hammersmith Bridge has been wrapped in giant pieces of foil to stop it from overheating as temperatures soar.
Silver insulation foil has been placed over the structure to protect it from the sun and keep the bridge open, with London expected to see highs of 35C (95F) next week.
A £420,000 temperature control system is also switched on at night.
The bridge, currently only accessible to pedestrians and cyclists, was also closed in 2020 due to a heatwave.
An amber alert has been issued by the Met Office from Sunday until Tuesday, with extreme heat expected in the capital.
Hammersmith Bridge, which was built in 1887, is currently undergoing major repair works at an estimated cost of £140m.
The heatwave in 2020 closed the Grade II*-listed structure when cracks in the cast-iron expanded. The bridge reopened the following year but only to pedestrians and cyclists.
Almost £9m has already been spent on stabilising the bridge's pedestals.
Hammersmith and Fulham Council said a toll to help pay for repairs was the "only way" the bridge could reopen entirely.
Insulation foil and the cooling system are being used to keep the bridge's pedestals safe in order for it to remain open.
The supporting chains are maintained to stay at 13C (55F). Engineers will need to close the bridge if the temperature of the chains reaches 18C (64F), according to the Local Democracy Reporting Service (LDRS).
Sebastian Springer, the engineer who is leading the project, said: "The safety of the public is our first priority.
"The temperature control system allows us to track weather spikes and maintain a constant temperature. As we deal with the current extreme heat, we are also coming up with innovative solutions to keep the temperature within the threshold."
Related Internet Links
The BBC is not responsible for the content of external sites.