London wildfires: Crews say they experienced absolute hell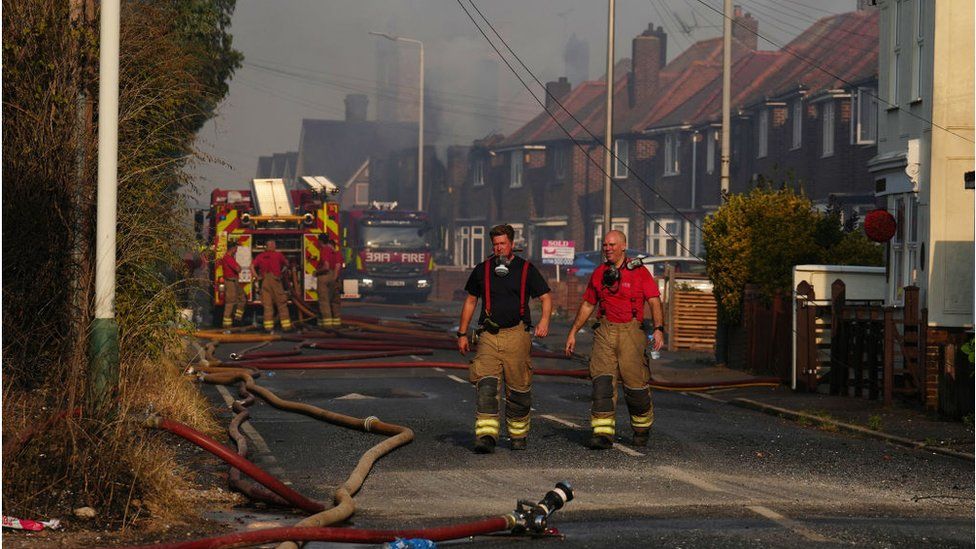 Crews who fought wildfires across London that destroyed more than 40 properties as heatwave temperatures soared have described the conditions as "absolute hell".
A major incident was declared on Tuesday when more than a dozen fires broke out across the capital.
Tim Stock, whose home was destroyed, compared what happened to the Blitz, saying it was "like a warzone".
London Fire Brigade (LFB) said it was its busiest day since World War Two.
The service took 2,670 calls on Tuesday and responded to more than 1,000 fire incidents, LFB said.
There were no deaths but more than 40 houses and shops were destroyed after a number of grass fires spread to nearby buildings.
Sixteen firefighters suffered heat-related injuries and two were taken to hospital, said LFB's assistant commissioner Jonathan Smith. He described conditions as "unprecedented".
Two of the largest wildfires broke out in Upminster and the village of Wennington, both in east London, where black smoke billowed into the air and flames destroyed buildings and left nearby fields charred.
A firefighter in Wennington described the conditions as "absolute hell".
Many villagers were left stranded when the fires, first seen in gardens, tore through rows of houses.
Mr Stock said: "Down the actual main road, all the windows had exploded out, all the roofs had caved.
"It's heartbreaking, really. I mean, I've been there 41 years but my grandad was there before me, so we've been there 60-odd years," he told the BBC. "And to see it all fall apart yesterday, it's really sad."
Claire Taylor, who also lost her house to the flames, said the fire engulfed homes very quickly: "Within two minutes of it hitting the field our house was gone."
Her family was one of 90 to be evacuated as the fires began to pose danger to their homes. She said she had lost all but her grandfather's ashes, some clothes and some photos.
She described the devastation in the community as "raw" and said people were trying to "muddle though".
In Dagenham, a wildfire that also began on grassland destroyed a number of houses and vehicles.
Two people were taken to hospital suffering from the effects of breathing in smoke.
Dawn Andrews, whose home off Main Street was destroyed, told BBC London she was "totally gutted".
She said she believed a fire from a nearby field had spread to some gardens.
"One of the houses had gas cylinders in the garden; they blew up, took the rest of the houses out."
She added: "My daughter was born there, I've been there for nearly 27 years.
"I don't know what I'm going to do now. You don't expect this to happen in real life."
LFB assistant commissioner Jonathan Smith said the service was setting out plans for how it might deal with any increase in fires like these.
"Yesterday's fires are another example of how we are increasingly being challenged by new extremes of weather as our climate changes, and we're developing long-term strategies to deal with more incidents like this in the future.
"This is something the brigade and other emergency services need to be very well prepared and plan for, as we know sadly it's going to happen again."
Tom Edwards, BBC London environment correspondent
These fires have turned into yet another climate change wake-up call for policy-makers.
A recent report for the Royal Society found the issue of wildfires had, until recently, been "overlooked".
The insurance industry wants planners to carefully consider when building homes close to areas susceptible to fire, and for any such areas to have fire management plans in place.
It also wants better planning around tree planting - slower growing broadleaf species, it says, are less flammable.
More public education around the risks of barbecues and cigarettes could also help.
The London Fire Bridge wants a total ban on disposable barbecues.
Could policies used in other countries, such as vegetation controls or fire-breaks, be introduced?
According to the London Plan, the mayor's development strategy for the capital, managing the risk of fires resulting from extreme weather should feature in building proposals.
But, if as predicted, we are going to get more intense frequent heatwaves, we will see more wildfires - and many want more robust policies to deal with them.
Mayor of London Sadiq Khan said it "really was a stretch yesterday" for London's fire service.
"Unfortunately, in London many properties are next to green spaces, which is a good thing the vast majority of the time.
"The downside is that in this exceptional weather, we have situations where fires can start easily and spread even faster."
He added: "We got through it because of the great work of the fire service, but we can't afford to have more of these days."
Chief Secretary to the Treasury Simon Clarke has promised the government will "step in" to help families hit by major fires sparked by the extreme heat.
He did not say specifically what help it might provide to those people without insurance and whose homes or belongings were destroyed.