Islington: Flooding in north London as water main bursts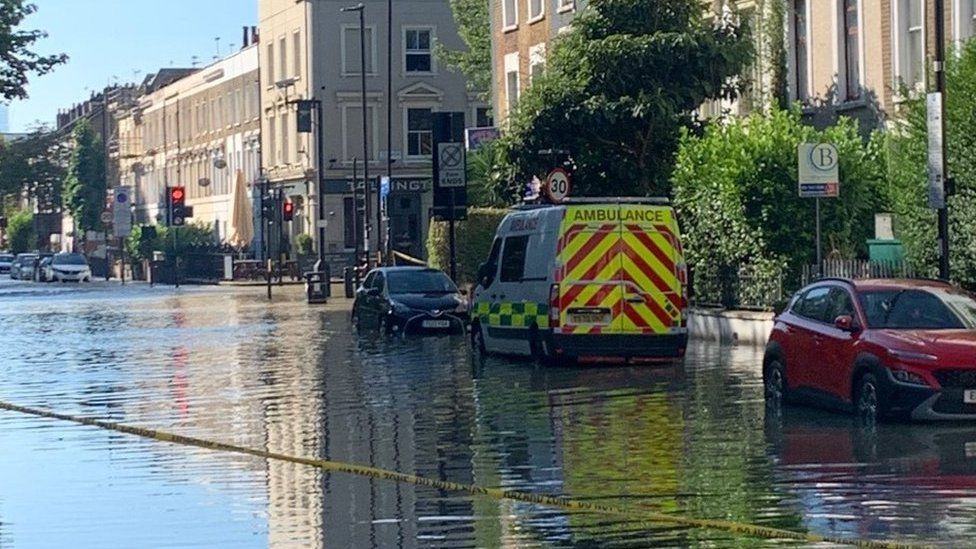 Two adults and two children were rescued by firefighters after a burst water main left part of north London under several feet of water.
The broken main on the corner of Hornsey Road and Tollington Road in Islington caused floods of up to 4ft (1.2m) and created two sinkholes.
About 50 properties were damaged and several roads remain closed, London Fire Brigade (LFB) said.
Flood levels receded after the main was shut at 11:05 BST, Thames Water said.
LFB said it first received calls just after 07:00.
Chris Stangroom, from Kentish Town, got stuck in traffic due to the "huge" flood.
The 51-year-old, who works in maintenance, said he was on the main road from east London into central London. "There was horrendous traffic not moving between 07:10 and 07:30," he said.
"Eventually you got to the front and there were a couple of fire crews there and a cordon across the road. People were just going back on themselves.
"It's the worst flood I've seen in London and I've been here for some years. The Sobell Leisure Centre is lower than the street level, so it looks like there was a metre or so of water outside. It's devastating for the local community.
"On the road there looked like one to two feet of water, and it was everywhere, not just a little section. There's an estate on the left-hand side of the road and the ground there all looked flooded.
"You could see where the water was coming up; quite frankly I've no idea how you tackle something like that. It's so huge and flooded that to even start digging up that ruptured area you'd have to reduce water levels first."
A staff member at the Tollington Arms, a pub located on the affected junction, said the area had rapidly been covered by water.
"It happened about 7am and within minutes there was flooding like a tsunami," they said.
"The fire service were down very quickly and we hope along with Thames Water, they can get things back to normal as quickly as possible."
Ten fire engines and about 70 firefighters were sent to the scene.
LFB station commander Matt Brown said the floodwater had affected Hornsey Road, Tollington Road and the Sobell Leisure Centre.
"Multiple road closures are expected to be in place for some time whilst our partners work to carry out repairs," he said.
"Firefighters used flood barriers to divert water and assisted two adults and two children to safety. There were no reports of any injuries."
Islington Council said teams had begun the clean-up operation and were "working with Thames Water and other agencies to assess repairs to the road".
It added that Sobell Leisure Centre would remain closed for the rest of today.
A Thames Water spokesperson apologised to customers who experienced "lower pressure than normal or no water today due to a burst pipe".
"Our engineers were quickly on the scene this morning and have stopped the flow of water, which is now draining away.
"We're using temporary pumps to restore water pressure levels and most customers should have their water pressure returned to normal this afternoon."
Related Internet Links
The BBC is not responsible for the content of external sites.