Jermaine Cools: Plaque unveiled for boy who was fatally stabbed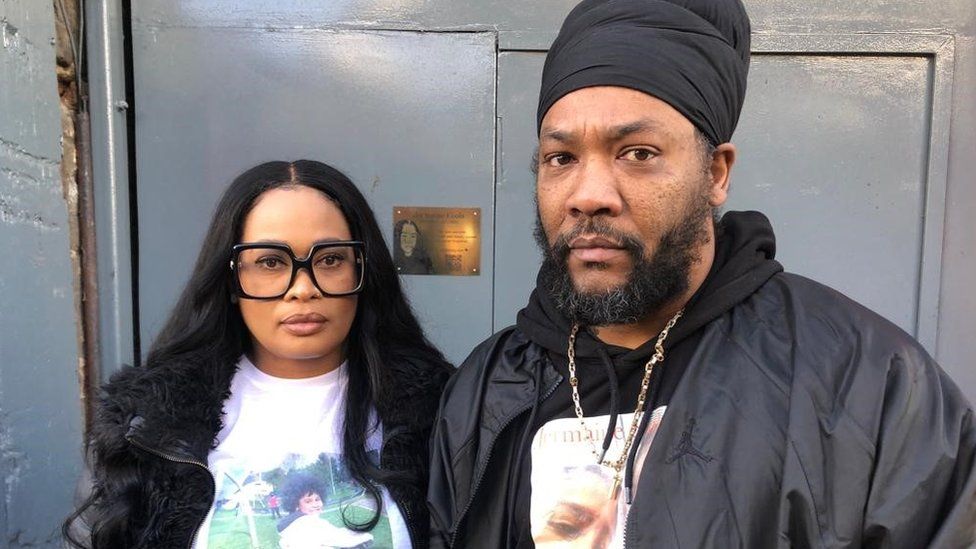 The father of a boy who was fatally stabbed in south London a year ago has said he feels there has been "no change" since his son's death.
Jermaine Cools, 14, from Croydon, is believed to be the youngest person to die in such a way in London last year.
On the anniversary of his death, Julius Cools told the BBC that youngsters were still being stabbed in the borough, despite the efforts of the police.
Knife-crime injuries have risen in the area this year, according to the Met.
Jermaine was attacked near West Croydon station on 18 November 2021. Police arrived at the scene following reports of a fight, but Jermaine had by then taken himself to a nearby hospital, where he died a short time later.
As a plaque was unveiled near the place where Jermaine died to commemorate his son, Mr Cools said he was concerned knife crime remained prolific, and added that he believed there were many stabbings that "don't make the news".
"To me, there is no change," he said.
"I want him (Jermaine) to rest in peace by getting justice for him."
Jermaine was one of five teenagers who were fatally stabbed in the borough in 2021. This year, though, no teenagers in Croydon have lost their lives to knife crime.
The Met Police says it is working hard with the local community to reduce violent crime.
"My first priority is to keep the kids alive," Supt Andy Brittain said.
He said the Met had a "razor-sharp focus" on "hotspot areas".
He added that a mentoring scheme to divert youngsters away from crime was proving successful, as it gave those who would otherwise enter the criminal justice system "hope for a better future".
Donna Murray-Turner, chair of the Safer Neighbourhood Board for Croydon, said trust in the police had improved recently, as officers had shown the "humility to want to understand what it feels like to be policed by them".
However, she said that although some "excellent work" was being done, the community was "still no further forward" in dealing with youth violence in the long term.
She said the fact no teenagers had been killed by people using knives in Croydon so far this year "was more about luck and the grace of God than it is about strategic thinking".
Ms Murray-Turner also warned the economic downturn was likely to lead to more youth crime.
"It's going to get rough," she said.
Related Internet Links
The BBC is not responsible for the content of external sites.