Soho police force entry to help woman, but find artwork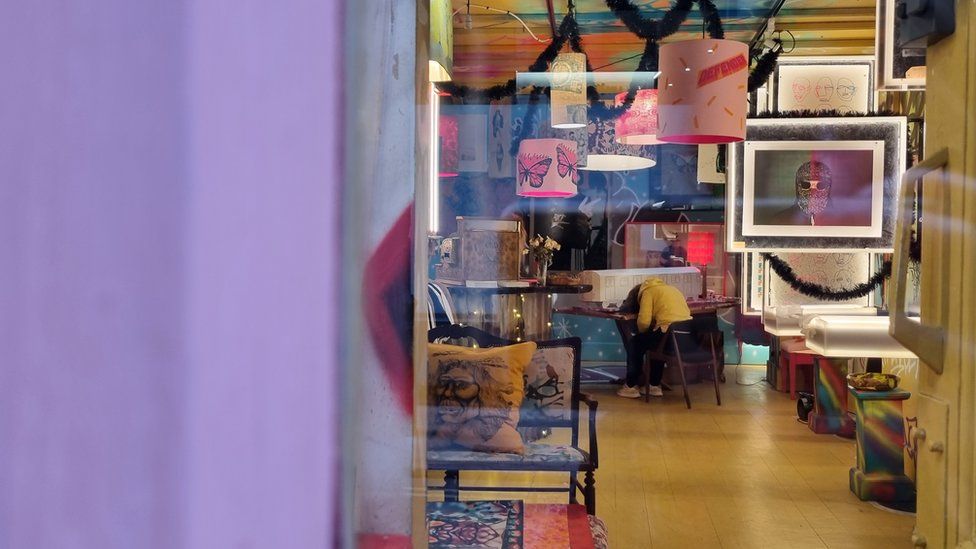 Police broke into an art gallery to help an unconscious person inside, only to discover it was an art installation.
Two officers saw a woman slumped over a table and forced entry to Soho's Laz Emporium in central London.
But the "woman" was actually made of packing tape and foam filler, as commissioned by Banksy's former agent.
The lifelike sculpture is a depiction of gallery owner Steve Lazarides' sister, Kristina, with her head in a bowl of soup.
He commissioned the piece from his friend, US artist Mark Jenkins, who makes "provocative street sculptures".
Jenkins previously made a floating body sculpture in an Amsterdam canal which also prompted various emergency service callouts, the gallery owner said.
The Laz Emporium sculpture was commissioned to adorn or give an "art sprinkle" to a table in the gallery.
Mr Lazarides said: "I didn't want to have a £20,000 table without something funny or distressing to complement it.
"It's there to make people smile or to horrify, to get a reaction and to grab people's attention. People always stop and stare at the piece and it's great because they linger and come into the shop."
He added that his shop assistant, who was on site at the time of the police visit, had gone upstairs to make a cup of tea and was shocked to find two confused police officers and an unhinged door.
A Met Police spokesperson said the force was called on 25 November to "concerns for the welfare of a person at a locked business premises" on Lexington Street.
"At approximately 17:57 GMT, officers forced entry to the address where they uncovered that the person was, in fact, a mannequin.
"The Met has a duty of care to respond when there are welfare concerns."
Related Internet Links
The BBC is not responsible for the content of external sites.