Oxford Street: Fake goods worth £140K seized in sweet shop raids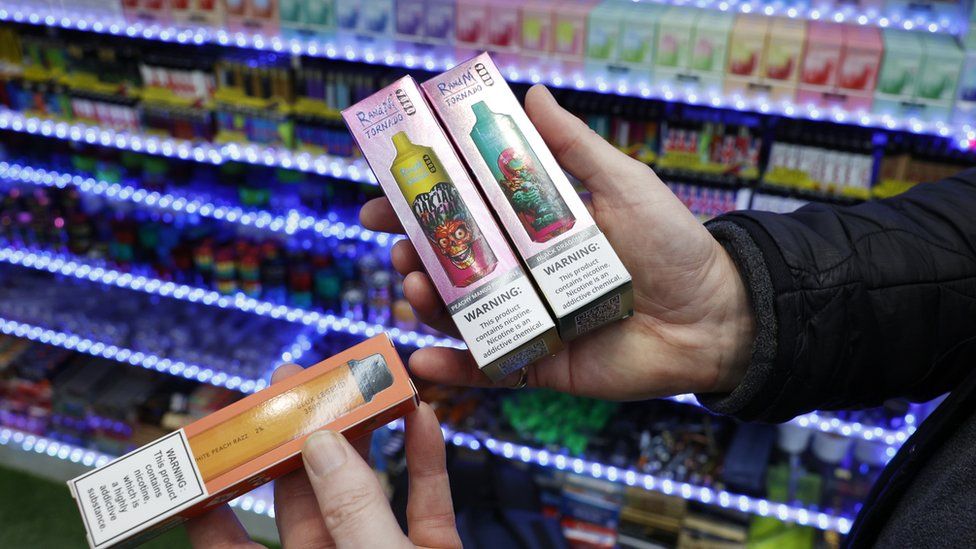 Vapes and fake Apple and Gucci products thought to be worth £140,000 have been seized from souvenir shops and US candy stores on London's Oxford Street.
Westminster Council Trading Standards and Met Police officers carried out the raids on Wednesday amid an ongoing crackdown along the shopping street.
In one store, police confiscated 3,000 illegal vapes which were found to have excessive nicotine.
Officers believe the products had been snuck into the country through customs.
Customers were found to have been grossly overcharged in some of the raided shops, with one claiming they paid £25 for a vape only to find £100 had been charged to their bank, the council said.
In another, £96,000 worth of fake power banks, sunglasses, phone covers, ear pods, travel adaptors and clothing were seized.
Martin Tuohy, a council trading standards manager, said most of the products were likely to have been snuck through UK customs.
They are then thought to have been moved to hubs in Manchester and London, and distributed to shops across the capital, he explained.
An officer working on the raids said: "A lot of the time they're quite open about what they sell.
"In the past, we've found cannabis vapes and cannabis breakfast cereals that have come from California and that need medical sign-off."
Adam Hug, leader of Westminster City Council, said the council was dealing "with a sophisticated and determined rack that exploits UK legal loopholes to trade from shop lets. We are also chasing £9m in unpaid business rates through the courts."
According to the council, the number of items seized takes the total worth of fake goods found in Oxford Street's sweet and souvenir shops to more than £1m in the last 15 months.
Related Internet Links
The BBC is not responsible for the content of external sites.