Wayne Rooney's sponsorship success made agent rich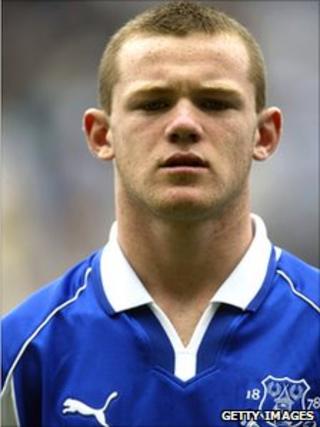 The closest Manchester Mercantile Court came to learning about Wayne Rooney's true wealth was when the England striker pulled a hand-written note from his suit pocket and passed it to the judge.
But details of his sponsorship and other commercial deals suggested at vast wealth.
The Manchester United star, who is reputed to earn £90,000 a week at Old Trafford, told a packed courtroom in February that his agent Paul Stretford had helped to make him a "very wealthy young man".
Rooney was being sued by his former agents - sports management firm Proactive - who said he owed them £4.3m commission on a number of deals.
The case followed Mr Stretford's acrimonious departure in 2008 from the firm he had set up.
Mr Stretford took Rooney with him as a client, and with him commission of 20% on his future deals.
It was as a 17-year-old that the then Everton player, under the watchful eye of his parents, found himself at the centre of an agents' bidding war.
'Unheard of' generosity
Proactive's founder Mr Stretford had won the family's trust and signed Rooney for £50,000 - less than half the amount others were offering.
Lucrative multi-million pound sponsorship deals followed with some of the world's biggest brands, including Coca Cola and Nike.
The 20% cut the agency received was one of "unheard of" generosity in football, Proactive's lawyer Ian Mill QC said.
Mr Stretford also acts for Rooney's wife Coleen, whose celebrity career took off as her husband became an England regular following his £20m transfer to Manchester United in 2004.
The agent secured her the TV show Real Women, a column in Closer magazine and sponsorship deals with Asda and Diet Coke.
The relationship between Mr Stretford and Proactive had begun to break down over his involvement in a trial at Warrington Crown Court in October 2004.
Mr Stretford was allegedly threatened by "certain individuals" when Rooney left one firm to sign up with him but his evidence was called into question by the Crown Prosecution Service which dropped the case because it could "not rely" on him as a witness.
The Football Association then brought disciplinary proceedings against Mr Stretford over alleged breaches of Fifa and FA agents' regulations relating to his acquisition of the right to represent Rooney from 2002 to 2003.
He was banned as a football agent by the FA and, when the board of Proactive refused to financially back his legal action against the FA, they parted company in October 2008.
Proactive claimed he was dismissed for gross misconduct, while Mr Stretford maintained he terminated his own contract.
Rooney said he stayed with Mr Stretford because he "trusted" him and was grateful for his help and management.
He maintained to the court that he believed Mr Stretford was entitled to the agreed commission and not Proactive, saying he could not speak "highly enough of him".
Proactive claimed it was entitled to commission on Rooney's deals but Judge Brendan Hegarty QC ruled the footballer owed only a "restitutional remedy" of about £90,000.