Coronation Street cat's ashes up for auction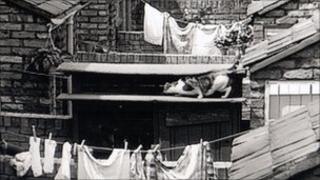 The ashes of a cat, seen skulking in the titles of Coronation Street for a decade, are to be auctioned.
Frisky was seen crouching on the roof of Jack Duckworth's pigeon loft at the start of more than 10,000 episodes from 1990.
His owner, John Rimington, from Leeds, is not sure how much Frisky's ashes will sell for but he hopes they will go to an "avid Corrie fan".
They will be sold on 22 July.
Frisky, who lost his battle against stomach cancer in 2000 at the age of 14, had to go through an intense audition process to get the coveted part in 1990.
Coronation Street's producers received more than 5,000 applications for the role.
After whittling it down to 10, the cats appeared on ITV's This Morning.
Viewers' votes were cast and the five felines with the most votes went on to be judged on a live catwalk.
The likes of Ken Dodd and Jean Alexander, the actress who played Hilda Ogden, were called on to pick the top cat.
Frisky was chosen and a life of stardom followed.
Mr Rimington said: "He loved being in the limelight and being the centre of attention.
"He was a fabulous, fun and outgoing cat - but many thought he was streetwise.
"He certainly wasn't - in real life he wasn't skulking round back yards - he had a converted castle to lounge around."
Dominic Winter Book Auctions, the firm in charge of selling Frisky's ashes - which come in a wooden casket complete with plaque and certificate - has a rough price of £150 but no reserve has been set.
Auctioneer Chris Albury said: "This is probably one of the most unusual things we have sold.
"Saying that, we have had bidding wars over a lock of Jane Austen's hair and Napoleon's tooth."