Trapped boy 'freed by neighbours' in Old Trafford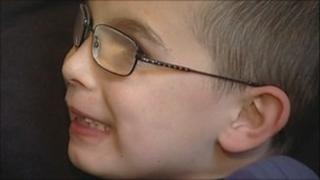 The mother of a seven-year-old boy who became trapped by an automatic gate in Greater Manchester has been describing how neighbours managed to free him.
Samuel Currier was taken to hospital with leg injuries after the incident at the back of Seymour Grove Health Centre in Old Trafford on Friday.
It came days after the funeral of six-year-old Semelia Campbell, who died after a similar incident in Moss Side.
Samuel's mother, Trina Currier, said it took 20 men to push the gate open.
"I was inside the house and I heard screaming, I came out and his foot was trapped under the teeth of the gate," she said.
"There was a few people here and then the gate started to close and it actually pulled him in between the two bars.
'Really lucky'
"This is a very strong gate it took 20 men to get the gate open, and they really struggled to get him out."
Samuel had been playing football near the gate when he became trapped at about 1720 BST.
Mrs Currier said his ball went down the side of the gate and when he put his foot by the gate to get it out, his foot was trapped.
Neighbours came out of their homes and managed to free Samuel using planks of wood which were nearby.
She said her son had been "really lucky".
"He's obviously in shock, his back and his foot have been badly bruised but he seems to be a bit better today," she said.
"I just think he's been really lucky, if he had been a little bit bigger it would have killed him."