Blackley WWI memorial thieves hunted by police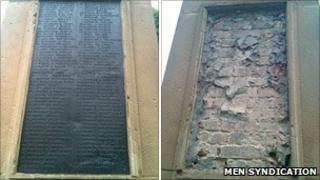 Thieves have stolen part of a memorial to soldiers from north Manchester killed during World War I.
Two bronze plaques were pulled from a stone monument at Boggart Hole Clough, in Blackley, earlier in July.
The plaques, erected in 1921 after door-to-door collections, are inscribed with the names of 215 soldiers from the area who died between 1914 and 1918.
It is believed they were stolen for their scrap value of about £150. Police are investigating.
Money raised
The plaques have stood on the site for almost 90 years and were recently refurbished.
Councillor Basil Curley, of the Charlestown ward, told the BBC the memorial had been subjected to a "major" act of vandalism.
"It has got a great deal of heartfelt representation from the people of north Manchester," he said.
"The money was raised after the first world war to erect this monument and it's a very nice piece of sculpture. This vandalism has really defaced it and it is very sad.
"We've put the word out to all scrapyards across the city and beyond, hoping that if anyone comes in to offer these plaques they let the city council know."
Mr Curley is now lobbying town hall officials, alongside Harpurhey councillor Joanne Green, to install lights and CCTV in the area in a bid to prevent vandalism in the future.
Greater Manchester Police (GMP) believe the theft occurred between 1700 BST on 9 July and 1000 BST the following day.
Anyone with information is urged to contact them.