Tameside Hospital told to improve patient care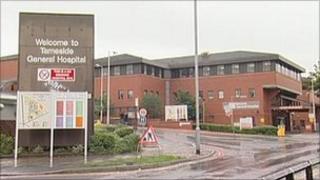 A hospital in Greater Manchester has been told to improve its patient care by an independent health watchdog.
The Local Involvement Network (Link) has recommended Tameside Hospital also improve its staffing, leadership and communication with patients.
The recommendations follow a meeting organised by Link in May, when patients and families spoke about their experiences of the hospital.
The hospital trust said it welcomed the "extremely constructive" report.
Among the recommendations for improving care were reviewing the systems for ensuring patients get sufficient food and drink and that all patients get help and support for toileting and bathing.
It also called for patients and families to be fully informed about their illness and be involved in decisions over their care.
More than 90 people attended the meeting.
It followed the publishing of a report in April by the Care Quality Commission (CQC) which said that the hospital was not meeting staffing and patient welfare standards.
The CQC gave the hospital one month to improve - which it was later found to have done.
Maria Theofilou, whose father Petros Savva died at the hospital in 2007, said the recommendations do not go far enough.
Mr Savva died aged 83, 10 weeks after a hip operation. He had contracted various infections including MRSA and gangrene.
'Very important'
Mrs Theofilou, from Hyde, said: "I feel more needs to be done. They need to investigate it even more. This has just scratched the surface."
Bill Burgoine, Link's chair, said: 'We think it's very important for us to represent people's voices fairly.
"Recent reviews by the Care Quality Commission and Monitor suggest that the hospital is improving but we've had many patients tell us about things that they are unhappy with.
"We want to be sure that everyone's care is as good as the best stories we heard.
"Very often people were happy with their clinical care - the concerns were about personal care, help with eating or having enough information about their diagnosis and treatment."
Christine Green, chief executive of Tameside Hospital NHS Trust, said the recommendations would "form the focus of our continued improvements".
The hospital's divisional nurse manager, Jo Keogh, said the patient feedback was "extremely useful" and would help to further improve standards.
She added: "We are going to ensure every ward sister and charge nurse reads this report in its entirety as it raises some vitally important issues for us."