Family's plea for return of Blackley WWI memorials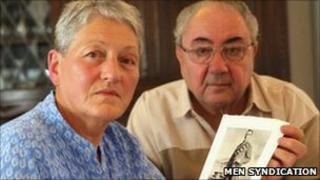 The nephew of a World War I soldier, shot dead a month before the war ended, has made an emotional plea for the return of two stolen war plaques.
Kenneth Ferrier's uncle, Pte James Ferrier, had his name inscribed on the bronze memorials along with 214 other fallen war heroes.
They were ripped off a stone monument at Boggart Hole Clough in Blackley, Manchester, on 9 July.
"Find a conscience and give them back, these men died for us," he said.
The plaques, which were first erected in 1921 after door-to-door collections, have a special place in Mr Ferrier's heart.
Shot 10 times
"I have grown-up knowing my uncle's name was on the plaques. I would always walk past and say hello to Uncle Jim.
"Just talking about it now makes me well up, it really is despicable what they've done. For a few bob in their pocket."
Pte Ferrier's body was never brought back home. He was 33 when he was shot 10 times on the battlefield in Flanders, France, on 4 October 1918.
"He kept moving forward despite being shot," Mr Ferrier said.
"He was a horseman in the machine gun regiment."
The 67-year-old retired teacher lives with his wife, Heather, in Failsworth and is appealing to local scrap dealers to hand the plaques in if they buy them.
"This is the only memory we have of our brave Jimmy, hand them in," he added.
Greater Manchester Police (GMP) believe the theft occurred between 1700 BST on 9 July and 1000 BST the following day.
Anyone with information is urged to contact them.