Rochdale Co-op museum gets £1.5m lottery funding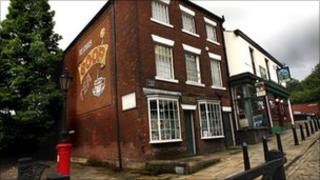 The home of the Co-operative movement in Greater Manchester has been awarded a £1.5million Heritage Lottery Fund (HLF) award to upgrade its museum.
The Rochdale Pioneers Museum, created out of a shop at 31 Toad Lane where the movement began in 1844, will be refurbished and employ extra staff.
The original shop will be preserved and the museum will get new displays and learning spaces.
Educational staff will be recruited to work with schools and colleges.
Part of the third floor of the museum building will be restored with the funding to provide an education space, and an extension will be built to hold a new staircase and lift.
Rochdale's pioneering business
The grant will also pay for an interactive museum website to let people see items that cannot be put not on display through lack of space.
Stephen Yeo, chair of the Co-operative Heritage Trust, said ordinary working people "unlocked the power of working together for mutual benefit and developed a model of co-operative business that the United Nations has stated has 'improved the lives of over half of humanity".
Sara Hilton, Head of HLF North West, said: "The development of the co-operative movement is an important part of our social history - both for our local communities and for people across the world."