Manchester ticket ban for cars placed on yellow lines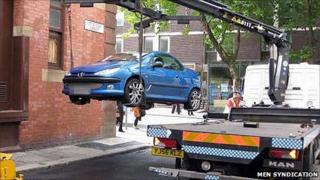 Parking attendants in Manchester have been told to stop putting tickets on cars hoisted by contractors to paint yellow lines beneath them.
Manchester City Council hoisted 338 vehicles last year to paint lines or carry out resurfacing work.
Tickets are issued electronically to all cars lowered on to yellow lines but immediately voided as a way of warning staff not to issue penalties.
Affected motorists have been "angered" by finding tickets on their cars.
The owner of a Peugeot 206cc left her car in Little Quay Street in Manchester city centre, where there was unrestricted parking, but returned to find that a crane had lifted it and replaced it on top of freshly painted double yellow lines.
An employee of parking enforcement contractor NSL had stuck the voided yellow ticket on the windscreen, which initially "worried and angered" the owner.
A Manchester City Council spokeswoman said that it had asked NSL to stop putting tickets on the windscreens of cars that have been lifted during line painting.
She said: "We understand that the ticket has to be issued to send a message to other NSL staff not to issue tickets, but the sight of a yellow ticket on a windscreen has worried and angered innocent car owners."
NSL has been lifting cars in Manchester since 2000 in order to carry out essential road repairs and to paint lines and markings.
An NSL spokesman said: "In busy city centre areas, it is more practical to hoist cars than to put up signs explaining that the road must be kept clear."