Sacking call over Stockport schoolboy's asthma death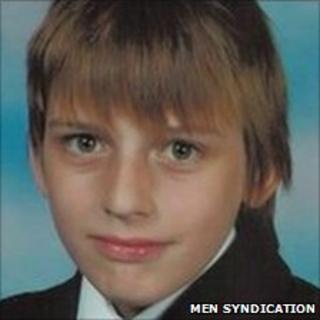 School governors have called for the sacking of a staff member after a boy died following an asthma attack.
Sam Linton, 11, died in hospital on 4 December 2007 after being made to sit in a corridor at Offerton School, Stockport, during the attack.
An inquest jury recorded that he died of natural causes and neglect "significantly contributed".
The school's head teacher is suspended and three other members of staff have been issued with formal warnings.
Governors recommended that a member of staff, believed to work in student services, be dismissed.
'Formal warnings'
A Stockport Council spokesman said that the individual had a right to appeal against the decision reached at the end of a three-month governor's inquiry.
He said: "A panel of governors at Offerton School, following appropriate procedures, have reached a decision in relation to most but not all of the staff members.
"We can confirm that there was one recommendation for dismissal, and three formal warnings.
"We can also confirm that the procedures in relation to the head teacher of the school will not commence until the start of the new term.
The governors will decide on the future of head teacher Evelyn Leslie in September.
The inquest heard that Sam, of Dalby Grove, Offerton, was wheezing and using his inhaler at school, but staff failed to dial 999 and told him to sit in a corridor.
His mother was eventually called, who took him to Stepping Hill Hospital, where he died two hours later.
Chairman of governors Paul Beatty declined to comment.