Grandmother suffered 90% burns in Bolton arson attack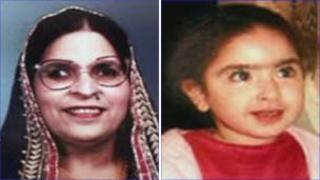 A grandmother suffered 90% burns when arsonists set fire to her Greater Manchester home, an inquest has heard.
Hameeda Begum, 71, died in the fire in Little Holme Walk, Bolton, on 23 June 2008.
Her granddaughter Alana Mian, four, died of multiple organ failure weeks later. Alana's mother Saima and a firefighter were also seriously hurt.
Dep Asst Coroner Peter Watson recorded verdicts of unlawful killing at Bolton Coroner's Court on Wednesday.
Earlier, Ms Begum's husband Mumtaz Chisty told the hearing of his desperate attempt to save his family.
He said his wife had told him she could smell burning so he went downstairs to investigate.
He discovered the front door was on fire and tried to put it out with bowls of water.
When that did not work, he climbed out of the kitchen window and he and neighbours tried to break other windows to save his family.
The fire was started when arsonists set fire to a wheelie bin and pushed it up against the front door of the family house.
Alana and her mother were visiting the family from their home in Australia at the time of the attack.
Witness appeal
In a statement read to the hearing, Mrs Mian said: "I don't deserve to live. I should be with my mother and my daughter."
Greater Manchester Police have started a murder inquiry but have never charged anyone over the deaths.
Three people have been sentenced for witness intimidation in connection with the case.
Speaking after the hearing, Mr Chisty once again appealed for anyone with information about the attack to come forward.
He said: "I lost everything. But I don't want, you know, that these type of people [are at large]. They could kill somebody else."