Tameside hospital stillbirth rate among lowest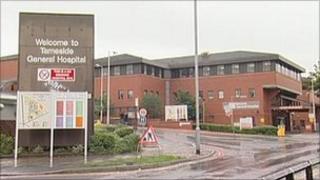 Expectant mothers at Tameside Hospital have a lower chance of giving birth to a stillborn baby than elsewhere in England, statistics suggest.
The hospital's rate of stillbirths is 3.2 per 1,000 births, compared to an England average of 4.6.
It represents a significant boost for the hospital, which has recently been criticised for its patient care.
The trust said the figures proved the hospital was one of the safest places for expectant mothers to give birth.
The statistics, which are from 2008, are contained in a report published by The Centre for Maternal and Child Enquiries (CMACE) on Wednesday.
It found that overall the percentage of stillborn babies has fallen but still remains higher than it was in the late 1990s.
Tameside's rate of perinatal deaths, babies who die between 22 weeks of pregnancy and seven days after birth, was also far below the national average.
Its figure was five per 1,000, compared to 6.7 per 1,000 across England.
Both of the Tameside rates also fell well below the average for Greater Manchester and each NHS area across the country.
Lesley Tones, head of midwifery at Tameside Hospital NHS Foundation Trust, said: "This report shows that Tameside Hospital continues to offer the highest standards of maternity care.
"Whilst the loss of any baby is deeply tragic, our patients can be reassured that the maternity and neonatal staff work tirelessly to ensure that we remain one of the safest places in the country to have your baby."
Some 6,500 babies died in 2008, when the latest data was gathered.
The stillbirth rate across the UK remains higher than it was more than a decade ago. In 1999, it was five per 1,000 - in 2008 it was 5.1.
On Tuesday, Tameside Hospital was criticised by independent health watchdog The Local Involvement Network (Link).
It recommended the trust improve its standards of care, staffing, leadership and communication with patients.