Tameside charity walkers attacked by gang of 10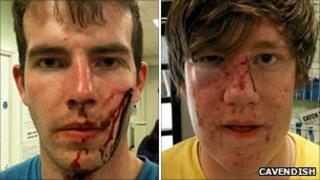 Three men were beaten by a gang of up to 10 youths while out training for a 125-mile charity walk.
Brothers Gareth and Fraser Cottrell, and friend Josh Fitzpatrick, were set upon as they walked along a canal in Stalybridge, Greater Manchester.
Despite suffering a number of facial injuries, the trio are three days into their trek around Anglesey and are determined to hit their £1,000 target.
Greater Manchester police (GMP) are investigating the attack.
Radio producer Gareth Cottrell, 26, told the BBC: "We were walking from Hyde to our radio show in Ashton-under-Lyne and we were attacked by 10 youths.
"They used a key in a fist and I had to have 10 stitches in my face. My brother Fraser has severe bruising on his cheekbone and his face as well.
"I think it's crucial to bear in mind that all of Britain isn't like that and these people are just a minority who are thugs really."
The trio are now three-days into their charity walk, having completed 65-miles.
Despite some wet conditions, Mr Cottrell said they were enjoying the challenge and hoped to reach their fundraising target.