Drug link to death of Antoine Sibierski's daughter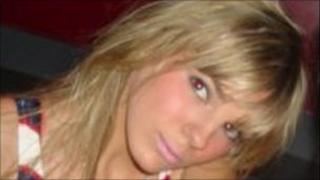 A coroner has said the drug mephedrone could have affected the "state of mind" of an 18-year-old woman who was found hanged at her Greater Manchester home.
Sibylle Sibierski, the daughter of former Manchester City footballer Antoine Sibierski, was discovered in her flat in Altrincham on 1 February.
She had taken the drug, legally at the time, and drunk champagne before she died, Stockport Coroner's Court heard.
The drug was banned by the government in April.
Miss Sibierski's father, who made 92 appearances for Manchester City, described his daughter as a "generous and happy and outgoing person".
Friends told the hearing a number of young people visited the teenager's flat regularly to drink and take drugs.
Miss Sibierski would buy a weekend supply of mephedrone every Friday from a nearby shop.
The inquest heard that users of mephedrone often suffer low moods after taking the drug and it affects their ability to think about the consequences of their actions.
Joanne Kearsley, deputy coroner for South Manchester, recorded a narrative verdict.
Addressing Miss Sibierski's parents, she said: "Your daughter was clearly a very popular and outgoing and much-loved daughter and was a young woman in the prime of her life.
"I suspect this may have been an impulsive act, perhaps driven by her low mood.
"On the 1st of February 2010, the deceased was found hanging and her state of mind may have been affected by her use of mephedrone and alcohol."
Ms Kearsley said she was not satisfied there was enough evidence to suggest Miss Sibierski intended to take her own life.
'Affected behaviour'
Toxicologist Julie Evans told the hearing that samples showed 16mg of mephedrone - a very low level - and a trace of the illegal drug ketamine which may have been taken "unknowingly" as it was mixed with the mephedrone.
It was not enough to be an overdose, Dr Evans said.
Miss Sibierski also had 135mg of alcohol in her body - nearly double the legal driving limit.
Dr Evans said Miss Sibierski could have taken mephedrone just before her death and it had not been absorbed fully, or more likely it had been consumed previously and the amount found was residual in her body.
Studies showed the drug was linked to suicidal thoughts, Dr Evans said, with users suffering "come-downs" hours and even days after taking it.
The effects of the drug and the alcohol would have affected her mental state, the toxicologist said.
"They could certainly have affected her behaviour and therefore have contributed to the decision she made without her realising the consequences of that decision."