Oldham's Coliseum theatre gets £1.45m cash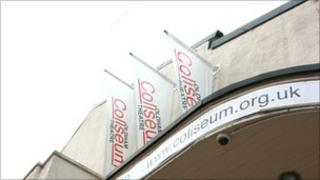 The future of a historic theatre has been secured after Oldham Council pledged to invest £1.45m in its upkeep.
The Coliseum in the town centre has enticed audiences since 1885, but a catalogue of works need to be carried out to stabilise the old building.
Its heating system is almost obsolete and asbestos needs to be removed.
Howard Sykes, council leader, said: "Even in this very challenging financial climate we have found the cash to invest in this key asset."
In August 2009, the Unity Partnership carried out an assessment which revealed that the heating system needed to be replaced.
Town's 'jewel'
It also identified asbestos which had been laying dormant since the 1960s. There is no risk to the public, but it could become dangerous if work on the heating system moves it.
The local authority confirmed that the asbestos will be removed.
Mr Sykes added: "The Coliseum has long been an outstanding 'jewel' in our town centre and it was clear we must secure its long term future.
"Making investment now to repair the heating system and remove the asbestos will enable the timing of this work to be controlled in order to minimise disruption to the theatre's programme of events and public use of the facility."
The move is part of the new £32m capital investment plan in Oldham which is running until 2014.