Bins campaign after fire deaths in Bolton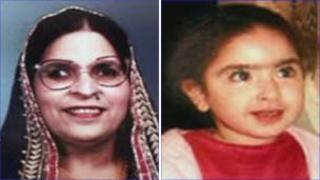 A council has started a new campaign to cut the number of bin fires, after a woman and her granddaughter were killed in an arson attack.
Hameeda Begum, 71, and Alana Mian, four, died after the blaze in Little Holme Walk, Bolton, on 23 June 2008.
The fire started when a wheelie bin was set alight and pushed up against the front door. On Tuesday, a coroner ruled that they had been unlawfully killed.
Bolton Council said it wants to reduce fires and burglaries which used bins.
A spokeswoman said the town had 323 wheelie bin fires from April 2009 and June 2010 - the second highest in Greater Manchester.
There were also 58 burglaries from July 2008 and June 2010, in which bins were used by burglars to stand on to get into properties.
'May seem minor'
Messages about not leaving bins out except on the day of collection, and not to store bins very near properties, will be displayed on the side of bin lorries, on bins and posters.
Councillor Sufrana Bashir-Ismail said: "Whilst it may seem like a minor problem, residents leaving bins out after collection can leave themselves at risk of bin fires which can spread to their property, or even of burglary, as the bin is used as a step to gain access to a back garden or windows in a property."
Greater Manchester Police have started a murder inquiry over the fatal arson attack.
Three people have been sentenced for witness intimidation in connection with the case.