Elderly face home care cuts in Bolton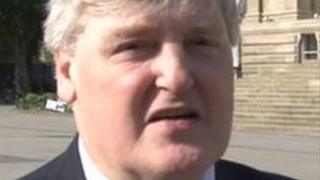 A council in Greater Manchester has said it plans to stop providing care for some elderly people in their own homes, to try to cut costs.
Bolton Council wants to save £50m over the next four years to help offset the expected reduction in grants.
Council leader Councillor Cliff Morris said those currently receiving care at home would not be affected.
But he said the authority would be changing its eligibility criteria for people in the future.
"New people coming into our services, their eligibility will be looked at differently," he said.
'Very sad'
"People with moderate needs will not get any services.
"We are very sad about it but when you have these cuts you have to look at everything."
He added: "We will always safeguard the vulnerable."
Gareth Evans, chief officer for Age Concern Bolton, said he was "very concerned" about the scale of the cutbacks.
"These cutbacks follow reductions made in recent years. They are not cutbacks in isolation."
He added: "Clearly a very serious attempt is being made to protect the most vulnerable which is obviously heartening."
Last month the authority voted to cut the budgets of its adult and children's services budgets by a total of £9.5m.
It also decided to save £70,000 from its development and regeneration pot, as well as just over £2m from spending on the environment and a similar amount from corporate resources.
Other cost-cutting measures councillors are considering include merging library and museum staff, introducing shorter library opening hours, and not running green waste collections in the winter months.
The council, which currently employed about 12,000 people, has also said it expects to shed up to 500 jobs.