Dental treatment money used for Alex Higgins' funeral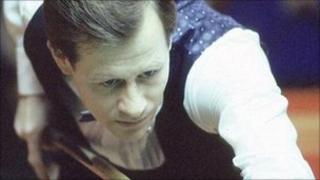 Money raised to help Alex Higgins receive medical treatment shortly before his death will instead be used to pay for his funeral.
The snooker legend, 61, known as the Hurricane, was found dead in his Belfast flat on Saturday. He had been battling throat cancer.
His former PA, Will Robinson, from Manchester, said the money raised at an auction and a fundraising dinner would be used to bid farewell to the star.
There was £10,000 in total, he said.
Higgins, who won the World Snooker Championships in 1972 and 1982, had been battling alcoholism and throat cancer and had lost all his teeth.
Recent pictures of Higgins show a gaunt man. He was penniless having reportedly spent a £4m fortune.
Mr Robinson, who first met the snooker star at a Manchester country club when he was 15, said he deserved a "great send-off".
"When I saw pictures of him looking so terrible I thought, 'something has to be done'.
"So I got in touch with his old friend and playing rival Jimmy White and organised a fundraising dinner and auction to pay for some medical treatment for him."
They took Higgins to Spain for essential dental work but when they arrived they were told he was too ill to have an anaesthetic and could not be treated.
The date for a funeral has yet to be set as Mr White is in Thailand at the moment and wants to travel back to pay his respects.
Mr Robinson added: "It's very tragic as he brought so much to the game.
"The two things that brought snooker to where it is today - first one is colour TV and the second one is Alex Higgins."