Trafford Borough Council to identify £60m savings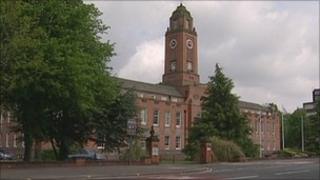 Council officials in Trafford must make cuts of more than £60m over the next four years, a report has revealed.
Councillors are being asked to back plans to get rid of 81 jobs in 2010/11, with many more expected to be lost in the coming years.
Some services will also be hit by the cuts - but the authority has ruled out protecting front line services.
The authority said it had been forced to make savings after the government's reduction in council grants.
Trafford Borough Council's executive will vote on Monday whether to approve the first round of savings for the current financial year.
Councillor Sean Anstee, executive member for finance, told the BBC the efficiencies had been identified in a "fair, considered manner".
He said it would be wrong to place exact figure on any future cuts, but added: "There will be job losses across Trafford over the next few years."
"We're doing our very best to make sure front-line services are the last area that we look at to make savings.
"All services will have a reduction in spending. What we've said [is] that there is no service that we have that is sacrosanct.
"We need to look very carefully at all the services the council provides to see if it is providing value for money, whether it is a statutory obligation for us to do, whether there are ways we can do that more efficiently."
Trafford Borough Council spends about £400m on its services and capital projects.
It said 43 of the threatened posts, in adult social care and planning, were currently vacant.