Sale animal sanctuary in emergency cash appeal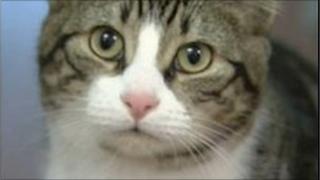 An animal sanctuary in south Manchester faces closure unless it finds £50,000 in the next couple of months.
The Society for Abandoned Animals (SAA) in Sale has been rehoming pets since 1966 but a lack of donations has left it with an uncertain future.
It needs to raise at least £200,000 a year and is entirely dependent on public generosity.
Nik Iddon, chairman of trustees, said it had "always had a vibrant role in the community".
In the past five years, the charity has rescued and found homes for more than 1,000 cats, 290 rabbits and 262 dogs.
However, Mr Iddon said, struggling economic times have led to a dramatic decrease in donations and legacies.
Emergency appeal
"The lack of cash combined with an increased number of abandoned animals brought into the sanctuary has left us facing very difficult times ahead."
The SAA was established by Peggy Henderson during the housing clearance in the Hulme area of Manchester. Many animals were being abandoned by families on the move.
It gained charity status in 1967 and is funded with the support of individual donors, corporate partnerships and fundraising activities.
He added: "We regularly work within the community to promote animal welfare and we have an important role across south Manchester.
"That is why we are launching this emergency appeal to all animal lovers and our supporters."