Review ordered into Metrolink disabled scooter ban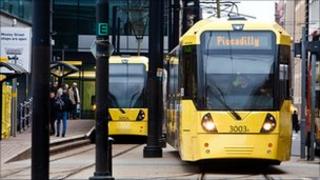 Transport chiefs in Greater Manchester are rethinking their ban on disabled people taking electric mobility scooters onto trams.
Metrolink users currently cannot take any wheeled vehicles onboard other than wheelchairs and prams.
Dozens of passengers have complained and a number of MPs signed a Commons Motion opposing the by-law.
Now Greater Manchester Integrated Transport Authority (GMITA) is reviewing the policy.
Members of the authority instructed officers to carry out the review at a meeting of its Policy and Resources Committee on 23 July.
Issues identified
But Metrolink director Philip Purdy has made it clear the ban will continue pending the outcome of the review.
He said: "The by-law remains in force on the network.
"We will carry out the review and report its findings back to GMITA for members' consideration.
"The review will gather further information about the standards and operability of different types of scooter and identify the issues associated with carrying them on trams."
Disability scooter users said they had been able to board trams up until the recent introduction of 40 new yellow trams.
But Metrolink has said that the by-law banning scooters has been in existence since the network was launched in 1992 and that it was now being enforced following an accident.
In the incident at the Besses o'th' Barn stop, a man manoeuvring a mobility scooter drove off the platform and fell 1m onto the tracks below.
A working group of GMITA is already examining the issue of whether bicycles should be allowed on the trams.