Two tarantulas discovered in Bolton in less than month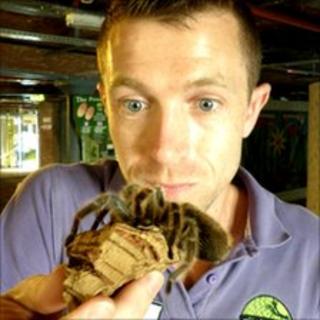 Two tarantulas have been found at homes in Bolton in less than a month.
The first was found in Selkirk Road, Sharples, on 23 June. The second was discovered in Junction Road West, Lostock, on 21 July.
Both were Chilean rose haired tarantulas. The RSPCA said they believe they either escaped or were dumped as they were in good condition.
They said there was no way to know if there were others on the loose but said they did not pose a danger to people.
RSPCA animal welfare officer Derek Hampson, who was called out to the second finding, said: "Tarantulas are not venomous so the risk they pose to the public is very, very slim.
Cover with container
"They can flick hairs from their body when they're agitated, which might cause damage if it ended up in an eye but that would be all."
He said it was rare to find two tarantulas in one town in such a short space of time.
"I've only picked up two or three in the past 10 years," he added.
One of the tarantulas was given to Smithills Open Farm in Bolton.
The other has gone to the Bugworld Experience in Liverpool, where keepers have named it after Coronation Street character, Rosie Webster.
Head keeper Mike Smillie said: "I'm a big Corrie fan anyway, but the fact that it's a rose haired tarantula and of course spins webs, meant that Rosie Webster was a great name for her."
The RSPCA has advised anyone who finds a tarantula to cover it with a container and contact the charity.