Family victims of latest wheelie bin fire in Bolton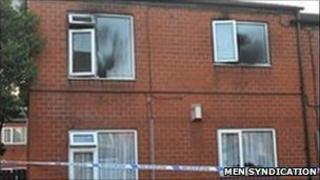 A family of eight have become the latest victims in a spate of wheelie bin arson attacks - one of which destroyed a house in Bolton.
Two adults and six children were rescued at 0005 BST from their house in Campbell Court, Farnworth, after a flaming bin was pushed up to the door.
The fire was the fourth deliberate bin blaze in the area since May.
Three men were arrested and released without charge over a blaze that gutted an empty house nearby on 16 May.
That fire at Cawdor Street, Farnworth, which police believed to be an arson attack, immediately followed a blaze at 0420 BST on 16 May at a flat in Campbell Court.
Two 35-year-old men were rescued by fire crews and taken to hospital, where they were treated on a high dependency unit, suffering from the effects of severe smoke inhalation.
The next suspected arson took place shortly after 2200 BST on 21 July, when emergency services were again called to a house in Campbell Court, which had a blazing wheelie bin placed outside.
A 27-year-old man was arrested on suspicion of arson with intent to endanger life and has been bailed until 21 October pending further police inquiries.
Supt John Lyons said: "It is no exaggeration to say that these wheelie bin fires can kill.
"Perhaps the offenders do not realise this, or the fact that if anyone is convicted of killing someone in an arson attack, they could get a life sentence in jail.
"I appeal to whoever is responsible to understand these potential consequences and stop this.
"I know the council and fire service have worked hard to encourage residents not to leave their bins out once their rubbish has been collected, but I would also like to reassure those residents that we are doing everything we can for their safety.
"While we are keeping an open mind, we are looking into possible links between all of these arson attacks."