Iraqi student told to leave care home over age dispute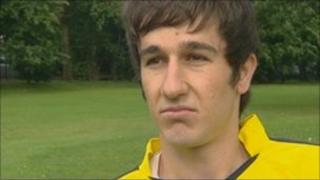 An Iraqi school student who says he is 16 has been told he must leave the children's home where he lives after he was judged to be an adult.
Orphaned Rabar Hamad arrived in Wigan in the wheel arch of a truck two years ago. The council paid for a place for him at a home in Oldham.
In a recent age assessment, social workers judged him to be aged 20. He must leave the home in eight days.
His supporters want his age assessed again and want him to stay in care.
Rabar was first assessed by social workers when he arrived in Wigan. They said he was over 18.
His age was re-assessed by an independent tribunal doctor, who recorded that he was aged between 13 and 16.
Rabar has been prevented from attending Breeze Hill School in Oldham, where he had been a pupil, as a result of the age dispute.
His supporters said he has also been warned that he could be deported.
Rabar claims that his original documents have been lost and that the Home Office will not accept photocopies.
He said: "I can't go back to Iraq - there's war, it's dangerous.
"I have eight days left and I have to leave the care home and I have to sleep in the street."
Bob Miller, a teacher at Breeze Hill School, said that the variations in Rabar's age assessments were "bizarre" and it said the situation "must be awful for him".
"We need to get him age-assessed by a credible medical person, otherwise it's a case of my word against somebody else's word and it's just not good enough," Mr Miller said.
"I've been teaching for 23 years at a school where we get 10 to 20 youngsters a year coming from overseas and they come at all ages and he looks like a 16-year-old boy and he acts like a 16-year-old boy."
In a statement, Wigan Council said: "We can confirm that we have undertaken two separate age assessments, which have reached the same conclusion."
The Home Office said that age assessments were required to prevent adults posing as minors and to protect children.