Inquiry after armed robber absconds from open prison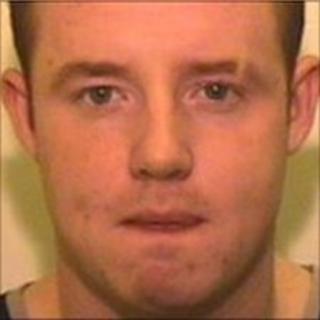 An inquiry is under way after an armed robber was sent to an open prison before absconding for a second time.
David Patmore, 26, had 21 months added to his sentence at Manchester Crown Court after pleading guilty to escaping lawful custody.
In 2003 he escaped from the dock. He was recaptured and was sentenced to 16 years.
The prison service said it was investigating why he was deemed minimum risk.
Following a "rigorous assessment", the prison service said, he was placed in Sudbury Open Prison in Derbyshire.
Patmore, who absconded from the prison on 1 April, was seized by officers from Greater Manchester Police on 28 June.
His arrest followed a rooftop siege involving armed police, dog handlers, negotiators and a helicopter in Whitefield, Bury.
Open prisons 'effective'
In 2003, he jumped out of the dock at Minshull Street Crown Court and fled before he could be sentenced for the armed robberies, the Crown Prosecution Service (CPS) confirmed.
When he was finally caught, he was sentenced to 14 and a half years for armed robbery and 18 months for escaping lawful custody.
Patmore, originally from Moston, was part of a five-strong gang who smashed their way into people's homes, attacked their victims and stole more than £80,000 in cash as well as cars and other items.
A Ministry of Justice spokesman said: "Open prisons have existed since 1936 and they are the most effective means of ensuring prisoners are tested in the community before they are released.
"To release prisoners directly from a closed prison without the resettlement benefits of the open estate would undoubtedly lead to higher levels of re-offending.
"Prisoners are rigorously risk assessed and categorised as being of low risk to the public before being placed in open conditions."