Fire closes Warburtons bread factory in Bolton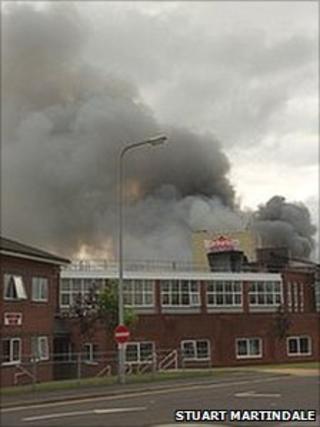 A major fire has stopped production at the Warburtons bread factory in Greater Manchester.
Fire crews have begun damping down the blaze, which began at 1450 BST at the bakery in Hereford Street, Bolton.
Ten crews from across Greater Manchester and Lancashire have been at the site. The fire is believed to have started in an industrial oven.
Fire investigation officers are waiting to examine the scene, but the cause is understood to be accidental.
Emergency operation
A Greater Manchester Fire and Rescue Service spokesman said the factory had been evacuated and 60 fire officers, some wearing breathing apparatus had been in attendance.
He said: "It is a heavily smoke-logged building so our crews needed breathing apparatus to find their way to the fire and contain it.
"Crews came in from Blackpool, Bury and Manchester Central to help with the operation.
"Our officers are talking to the plant operators about when the factory will be able to resume operation, as it is a 24-hour production site and they will need to know what to tell their workers."
Warburtons has started an emergency operation to ensure supplies of bread to the North West are fulfilled.
Hauliers have been brought in to transport bread from the firm's 13 other bakeries across the UK into the region, a Warburtons spokeswoman said.
Third biggest bakery
"We're making sure that we get the daily bread to our customers tomorrow," she said.
She said that until the damage was fully assessed and they were satisfied that the plant was clean, there would be no food production at the plant.
Warburtons' association with Bolton stretches back to 1870 when the family opened a small grocer's shop on Blackburn Road, which stands opposite the present Warburtons headquarters.
The family-run firm produces one million products a day and is the UK's biggest bakery, employing about 5,000 workers.
The Bolton plant employs 234 workers and is due to undergo a £25m upgrade.