Manchester polling night chaos 'unacceptable'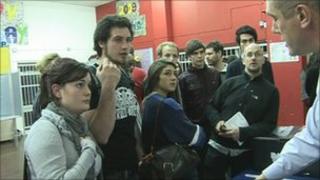 Manchester's returning officer is to donate about £4,000 of his fee to charity after a report into "unacceptable" election night problems.
Huge queues formed at two polling stations in Withington meaning dozens of voters were turned away.
The report found contingency measures had not been triggered at those sites.
Election chief Sir Howard Bernstein, who was entitled to a £19,250 fee for overseeing the polls, said they were "isolated shortcomings".
The report, compiled by Manchester City Council, said the first combined general and local elections for more than 30 years "posed an enormous logistical challenge".
On 6 May, the polling at the vast majority of Manchester's 269 polling stations worked well, it said.
But a combination of circumstances - including an increased turnout and many people failing to take polling cards - led to queues at a small number of stations.
Under council contingency measures, extra staff were sent to six polling stations where queues had formed and everyone was able to vote.
But voters were left angry and frustrated at two polling stations in the Withington constituency because neither polling station staff nor polling station inspectors followed those contingency arrangements.
Detailed recommendations
Sir Howard said: "This detailed review shows that overwhelmingly the election team worked effectively under difficult circumstances.
"While there were isolated shortcomings at two individual polling stations, these related to a failure to trigger contingency arrangements which proved able to deal with queues elsewhere.
"We have made a number of detailed recommendations to prevent such a situation arising again.
"We are absolutely clear that the fact that some voters in Withington constituency who turned up at polling stations were denied the opportunity to vote is unacceptable.
"In recognition of this fact I have decided to donate the fee associated with being acting returning officer for the parliamentary election in Withington to the Lord Mayor's Charity."
The review of the polling problems was published by the council on Friday.
Sir Howard was in charge of five constituencies for the 2010 combined parliamentary and local elections in May, entitling him to the £19,250 fee.