Self-harm figures 'set to rise' in Manchester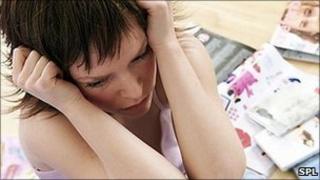 The number of people self-harming in Manchester - dubbed the self-harm capital of Europe - could be about to rise, experts have warned.
Some 450 out of every 100,000 residents are treated for self harm injuries every year in the city, placing it top of the list of European cities which record figures.
But clinicians believe those treated represent a "very small" percentage of the total number of people who use self harm as a way of coping with stress.
And with the UK recession combining with Manchester's high levels of unemployment and social deprivation, experts believe the figures are set to rise even higher.
The BBC has seen figures collated by the Network for International Collaboration on Evidence in Suicide Prevention and the Manchester Self Harm Project (Mash) which show the city has remained top of the table.
Latest available figures show that between 2004 and 2007, 541 women and 355 men went to an accident and emergency (A&E) department in Manchester to be treated for a self-inflicted injury.
The city was also named European capital in 2008, when researchers found an average of 540 women and 422 men out of every 100,000 Mancunians had self-harmed.
Dr Jayne Cooper, a research fellow at the Centre For Suicide Prevention at the University of Manchester, suggested the figures up to 2010, when published, were unlikely to fall.
"Research suggests social deprivation and the increasing gap between rich and poor in Manchester is one of the main reasons why we have such high statistics," she told the BBC.
"We know that people who self-harm are more likely to have social problems such as unemployment and poor housing.
"In terms of the demographics in Manchester, we have high rates of unemployment. This makes Manchester more vulnerable to this type of problem.
"And of course we have to consider the global issue, which means this could only get worse over the next few years."
'Lack of power'
The practice of self-harming is known by other names - self-inflicted violence, self-injury, delicate cutting, self-abuse or self-mutilation. Clinicians describe self-harm is the act of attempting to alter a mood by inflicting physical harm to the body.
Dr Sam Warner, a clinical psychologist at Manchester's Metropolitan University who works with people who have self-harmed, said they often feel it is the only release they have for the pain and pressure held inside.
"People self-harm because of issues around lack of power, issues around alienation and exclusion," said Dr Warner.
"One of the reasons that people will experience loss of power will be because of economic depravation. Lack of power may be associated with childhood experiences of abuse, it might be associated with adult experiences of domestic violence, it can also be associated with social abuses like racism."
Whatever the trigger, Dr Warner - and other psychologists - say self-harm is a coping mechanism which should be viewed by clinicians like over-consumption of alcohol, smoking or food.
In recent years, medical professionals have been criticised for the way they have dealt with patients.
But the National Institute for Clinical Excellence (NICE) has now published a series of guidelines for A&E departments and all medical staff are expected to have a general awareness of the issue.
Dr David Kingsley, a consultant in adolescent psychiatry at Cheadle Royal Hospital, said: "Staff in A&E departments are under a lot of pressure, they are obviously busy managing very risky situations and often they may not be very well informed about the nature of self harm.
"So I think sometimes there are people who end up in A&E departments after episodes of self-harm who find that that there's a real lack of understanding."
Harm minimisation
Clare Shaw, 37, of Hebden Bridge, West Yorkshire, self-harmed for more than 20 years and spent time in and out of hospitals and psychiatric units across the North West of England.
Ms Shaw eventually gave up after employing the "harm minimisation" technique, which involves the patient attempting to reduce the amount of self-harm they carry out rather than stopping altogether.
It is a technique employed by Dr Warner, who said there were other techniques that doctors and psychiatrists employed. In some cases cognitive behavioural therapy can work, and for other people positive action to make changes for the better in their lives can be enough.
Ms Shaw said her breakthrough came when she began understanding the root cause of her problems and what was causing the pain, rather than taking away the implements she used.
"It's not because people are mad or weird or mentally ill with personality disorders, it's because people are struggling to cope with different experiences," she said.